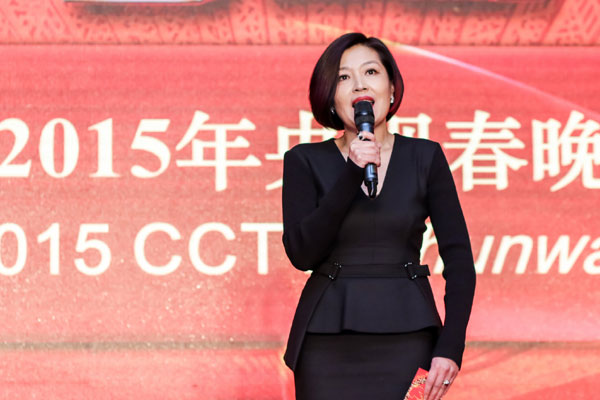 Ha Wen, chief director of the 2015 Spring Festival Gala is seen is this file photo taken on February 2, 2015. [Photo/IC]
Going by a preview on Feb 6, the 2015 Spring Festival (chunwan) gala on China Central Television will include a cross-talk (xiangsheng) performance. This signifies the return of xiangsheng - humorous or sarcastic stories told through dialogues or monologues - to the chunwan gala after years.
The inclusion of xiangsheng in the chunwan gala - telecast on the eve of the Lunar New Year to bid farewell to the passing year and welcome the new - will not only spice up the show, but also manifest the higher authorities' increasing tolerance of critical cultural and entertainment programs.
Miao Fu and Wang Sheng from Shaanxi province will be the two xiangsheng performers in the program. "The leaders have asked us to be straightforward saying there is no need to be evasive," Miao was cited by some media outlets as saying. A special arrangement was made for the two to even meet officials from the local anti-corruption watchdog to discuss real cases which could provide fodder for their program.
Cross-talk, as a traditional art form, used to be a very popular source of entertainment. Some classic sarcastic xiangsheng works, composed by famous artists Ma Sanli and Ma Ji, which deride the malpractices in and dark sides of society are still a great source of entertainment for many even decades after they were first performed.
But the art form is not popular, especially among the youth, because of the advent of films, TV and the Internet. The dearth of good works too has contributed to its decline.