Celebrating Spring Festival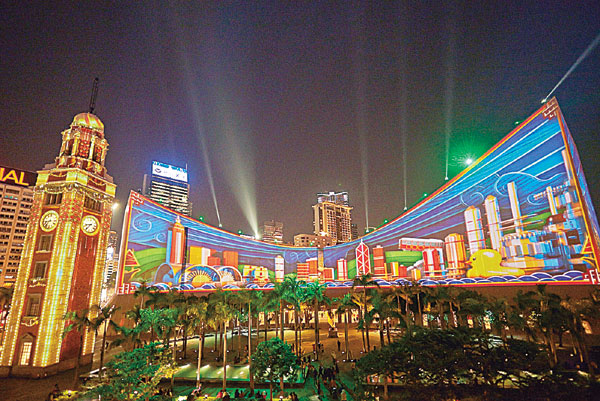 BRIGHT LIGHTS: The 3D light show at the Hong Kong Cultural Center and fi rework show over Victoria Harbor are exciting ways to celebrate the Lunar New Year. [Photo provided to Shanghai Star]
The Lunar New Year is one of the most important events on the Chinese calendar and has been for thousands of years. Zhou Wenting looks at some events paying tribute to the traditions of the festival.
As the biggest festival in China, the Lunar New Year has a lot to offer. In fashionable Shanghai and its neighboring cities, there are a number of events where people can experience the original folk flavor of the festival.
Guyi Garden 古漪园
The garden, with a history dating back to the Ming Dynasty (1368-1644), will host a Spring Festival fair. Visitors can enjoy traditional snacks and observe traditional Chinese folk artwork being made. Visitors can also watch folk performances and masters of particular handicrafts will demonstrate their unique skills, such as paper-cutting and using syrup to draw animals and cartoon characters.
Open: now through March 8 Address: 218 Huyi Highway, Nanxiang town, Jiading district 嘉定区南翔镇沪宜公路218号 Ticket: 12 yuan ($1.92) per person
Square Pagoda Park 方塔园
Traditional Shanghai opera and Shaoxing opera performances will be performed in the park. Masters will demonstrate traditional artwork, and dragon and lion dancing.
Open: Feb 19 to March 8 Address: 235 East Zhongshan Road, Songjiang district 松江区中山东路235号 Ticket: 12 yuan per person