Celebrating Spring Festival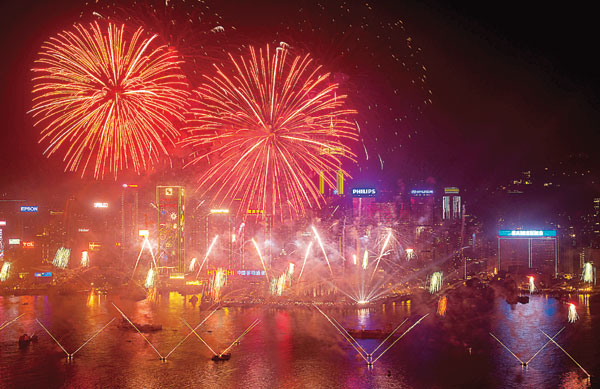 BRIGHT LIGHTS: The 3D light show (top) at the Hong Kong Cultural Center and fi rework show over Victoria Harbor are exciting ways to celebrate the Lunar New Year. [Photo provided to Shanghai Star]
Nanxiang Old Street 南翔老街
Red lanterns will illuminate this historical, well-preserved area that is surrounded by traditional residential houses and commercial areas in the center of Nanxiang ancient town during the Spring Festival. Visitors can tie their New Year wishes to the trees and watch a boat parade.
Open: Feb 17 to March 5 Address: 206 Jiefang Street, Jiading district 嘉定区解放街206号 Ticket: 40 yuan per person
Grand View Garden 大观园
Local residents will dress up in traditional folk attire in the garden to make flower baskets and perform fan dances to show how people used to celebrate the Spring Festival. Visitors are welcome to join the show. This famous garden was built to resemble the garden described in A Dream of Red Mansions, a Chinese classic written by Cao Xueqin more than 200 years ago.
Open: Feb 19 to 24 Address: 701 Jinshang Highway, Qingpu district 青浦区金商公路701号 Ticket: 60 yuan per person
Zuibaichi Garden 醉白池公园
There will be a grand Spring Festival fair held on the central lawn of the park. From Feb 15 to 17, the first 50 visitors will receive New Year couplets written by renowned calligraphers. On the afternoon of the Lantern Festival, which falls on March 5, there will be a traditional contest in which participants must answer riddles written on lanterns.
Open: now through March 15 Address: 64 South Renmin Road, Songjiang district 松江区人民南路64号 Ticket: 12 yuan per person Around Shanghai