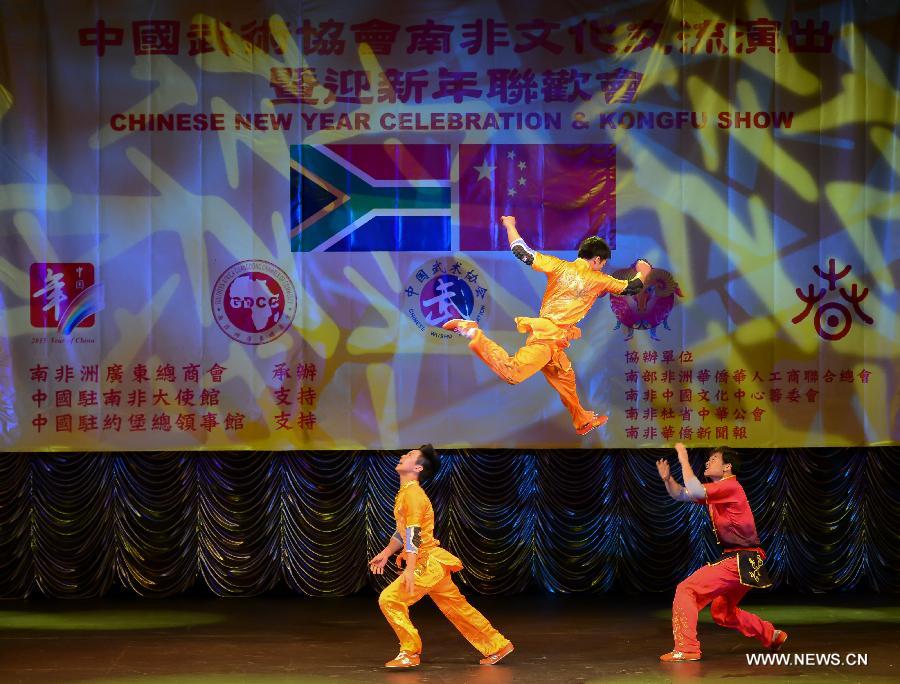 Martial artists perform during a Kongfu show in Johannesburg, South Africa, on Jan. 20, 2015. [Photo/Xinhua]
A cultural exchange event, Chinese New Year Celebration and Kung Fu Show, was held in Johannesburg, South Africa on Jan 20.
A total of 12 martial artists from the Chinese Wushu Association and some famous South African singers presented a cultural feast to Johannesburg residents.
The performance was attended by Consul General of China in Johannesburg Sun Dali, Cultural Counselor with the Chinese Embassy to South Africa Zheng Wen and some South African officials.
At the performance, Sun said that Chinese martial arts have a long history and are a form of traditional culture. Martial arts represent the national spirit of self-improvement of the Chinese people.
The Chinese Embassy to South Africa gave a warm welcome to the martial artists and it was hoped that they could present the unique charm of the Chinese martial arts.
The performance demonstrated the basic skills of kung fu, shadowboxing, cudgel play and some other forms of martial arts, which won high praise from the audience.
Some local residents said that the show was a great eye-opener, and they understand Chinese martial arts better.
Some overseas Chinese at the scene said they were very pleased to enjoy such a feast of martial arts, even thousands of miles away from their homeland.