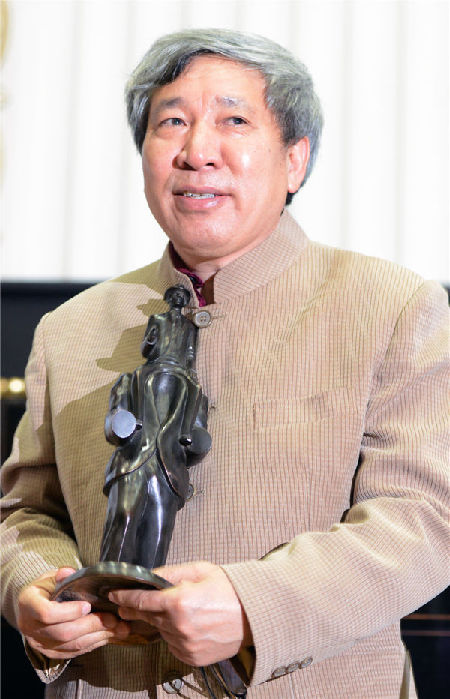 Yan Lianke attends the award ceremony in Prague on Oct 22.[Photo/Agencies]
As Yan Lianke wins this year's Kafka prize for his 'artistically exceptional' writings, his fans from China's literary world tell Liu Zhihua why the author is deserving of the recognition.
Yan Lianke received the Franz Kafka Prize on Oct 22 in Prague, becoming the first Chinese author to win the award, established in 2001 in honor of one of the 20th century's most influential writers. The prize recognizes anyone "whose work addresses readers regardless of their origin, nationality and culture".
So far its 14 laureates include American novelist Philip Roth, Japanese author Haruki Murakami and Israeli author Amos Oz. Past winners, including Elfriede Jelinek in 2004 and Harold Pinter in 2005, went on to win the Nobel Prize in literature as well.
Ahmed Alsaeed, a translator and copyright agent from Egypt, says he wasn't surprised Yan won the award.
"His works are fearless, no matter whether in innovation of structure, content or wording," Alsaeed says.
Born in 1958 in Songxian, Henan province, Yan enlisted in the army in 1978. He began to publish his writings in the early 1980s, and the subjects of his short stories and books were mostly inspired by military and rural life in China since the 1960s.
Yan is best known for his highly satirical style of writing and his own interpretation of reality.
Yan has published more than 20 novels and collections of short stories, which have been translated into dozens of foreign languages.