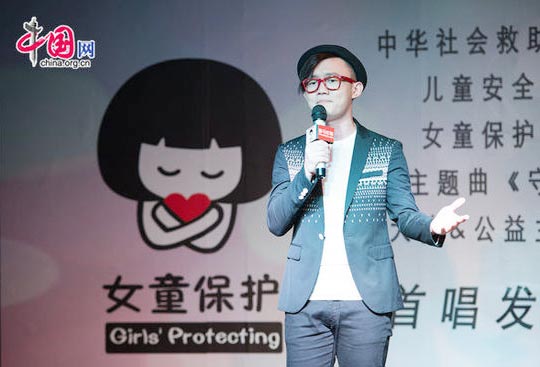 Pop singer Tinckson pledges to raise public awareness on protection of underage girls in China. [Photo/China.org.cn]
The protection of underage girls in China has one more advocate in Tinckson (Ding Kesen), a pop singer and trainee on the Voice of China TV talent show. Tinckson officially pledged on Wednesday to support this undertaking through his music.
His new song, Guarding Childhood, was specially composed for this purpose, said Tinckson, who is also a goodwill ambassador for Girls' Protecting, a charity which runs sexual assault education and prevention programs.
In launching this new song, Tinckson expresses his indignation at reading about criminal offences involving the molestation and sexual assault of young girls in China, and he urges the girls as well and their guardians, teachers, and everyone in Chinese society to raise awareness for their protection.
"Say it out loud in case of danger," was the message Tinckson wishes to send out to all girls. "Do not get in strangers' cars, do not accept strangers' gifts, do not fear shouting at strangers who molest you," said Tinckson.
A woman from Hebei province who has a six-year-old daughter said she had paid a lot of attention to cultivating her child's hobbies, but had ignored "the necessary sex education," which she has realized is "very important."
Girls' Protecting has been campaigning for the protection of young girls mainly through providing free lectures to young girls and their parents and teachers in a bid to raise awareness about sexual assault and to educate girls about how to defend themselves. So far, the organization's lectures have reached as many as 10,000 girls in 17 provinces, according to Sun Xuemei, project manager of Girls' Protecting.
However, similar charity groups pointed out the project's limitations in that it seems to heavily focus on the protection of young girls, while neglecting the fact that young boys are also victims of sexual offenses.
Gao Yan, a charity analyst, does not agree with the idea of separating girls from boys when addressing child protection. She pointed out that the reason why we hear about more female victims is because "there was even less attention to boys," since the public tends to take it for granted that only females fall victim to sex crimes.