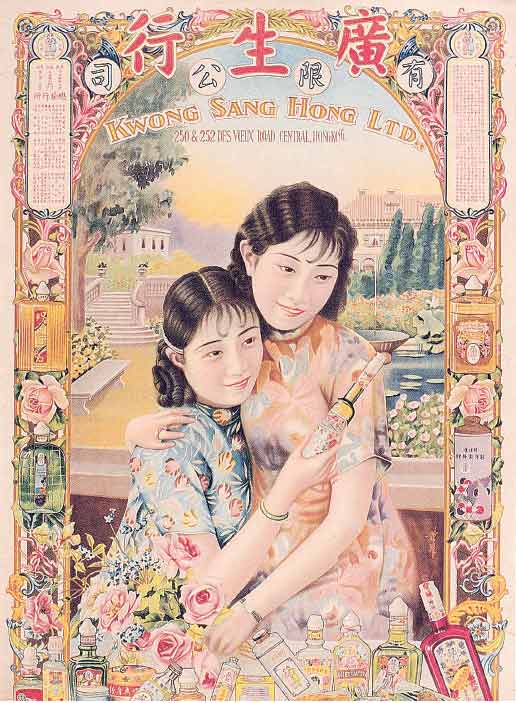 Kwong Sang Hong began selling its Florida Water in 1910. Photos provided to Shanghai Star.
Liushen is a "special water" that brings both a whiff of nostalgia and relief to troubled skin. Wang Ying splashes some on.
In the memory of a few generations of Chinese, the scent of summer is a mixture of quite a few special, indispensable items, of which hualu shui is one. The name hualu shui, or floral water, was first brought to China in the late Qing dynasty (1644-1911) as a variant of Florida Water, an American version of cologne.
China developed its fi rst homegrown Florida Water in 1905, produced by Kwong Sang Hong with a logo of stylish twin sisters.
In 1907, green-bottled Florida Water branded as "minxing" became available in Shanghai, and three years later, Kwong Sang Hong started to sell its Florida Water under its iconic Shuang Mei brand at the then-landmark No 475 Nanjing Road.
During the 1930s-1940s, Florida Water was a luxury item, which only the most fashionable female socialites could afford to wear. "Have some hualu shui" even became Shanghai slang, as a phrase to describe someone with connections.
Birth of liushen
In order to give the special "water" modern features and something uniquely Chinese, the Shanghai Jahwa United Co Ltd started to research and develop the new version of hualu shui by adding six traditional Chinese medicines, each of them having cooling effects to stave off the summer heat.
The new version of Florida Water gained the name Liushen, after the six items of traditional Chinese medicine materials, and the first bottle of Liushen Florida Water became available on the market in 1990.
As opposed to traditional Florida Water, which is often used as a unisex cologne, Liushen Florida Water is more focused on solving skin problems during the summer. Liushen's functions include cooling, repelling mosquitoes, and easing stinging and itching. Its efficacy has led to a large following, with some customers simply buying it to replace talcum powder in tackling prickly heat.