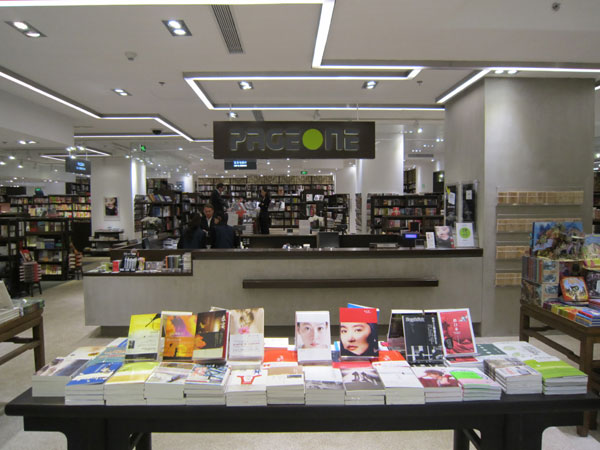 The Page One bookshop in China World Mall in Beijing. The Singaporean bookstore chain now has three branches in Beijing.
Yandi Mbeki (pseudonym), the 39 year-old wife of a diplomat from South Africa, Googled "English bookshops in Beijing" on her arrival in the city, but found no really helpful guides. For the first five months of her stay, she went to a small community bookshop near her home and resorted to amazon.cn to find textbooks in English.
Fortunately, her husband then noticed Page One, a Singaporean bookstore chain that has three branches in Beijing. Yandi, a bookworm who spends about two hours every day reading, said she was thrilled to find a store that offers "two floors" of books.
Booksellers in the country's major expatriate habitats, such as Beijing, Shanghai and Guangzhou, have responded to these visitors' desire for books in their own languages, and opened bookstores designed to appeal to foreign customers.
Chen Weiye, the founder and manager of Garden Books, a bookshop famous among expatriates in Shanghai, quit his job at a State-owned book company 10 years ago to establish his foreign-language bookstore, determined to make it a landmark that fits the international city of Shanghai.
"Back then few expatriates spoke Chinese, and the Internet was not yet so accessible. I wanted to be a provider of cultural life," he said.
Garden Books is more like a community center than just a bookshop, where people meet with friends and listen to lectures by visiting overseas authors in a sophisticated, relaxing environment.
The two-story building built in the 1930s sits on a quiet street lined with plane trees in downtown Shanghai's former French Concession. It was refurbished by expatriate architects and interior designers and completed with imported furniture from Europe. The refurbishment cost more than 2 million yuan ($320,800).
A flea market the bookshop used to hold at weekends attracted thousands of people, filling the 400-sq-m space.