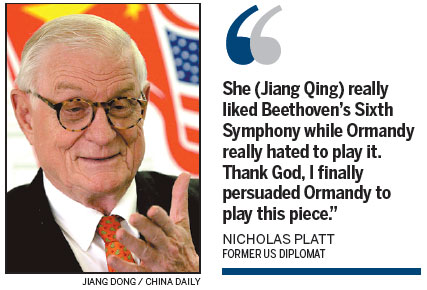 In 1973, the Philadelphia Orchestra became the first such group from the United States to play in the country since the founding of New China in 1949. It was a landmark moment and the start of an important relationship that continues to this day. Chen Jie chats with the diplomat who made it happen ahead of the orchestra's 2014 tour.
It was a cool autumn evening on Sept 14, 1973, but Eugene Ormandy was working up a sweat on the stage of the Cultural Palace of Nationalities.
He was passionately conducting the Philadelphia Orchestra, yet the Chinese audience remained impassive, politely listening, completely silent.
As soon as the first half finished, Ormandy asked someone to fetch Nicholas Platt, a diplomat from the United States, who had coordinated the first tour of a US orchestra in China after the founding of New China in 1949.
"I'm upset. This is the coldest reception I've had," the maestro said while his wife helped him to wipe the sweat from his brow backstage.
"It's because they did not know how to applaud," Platt told him. "In my experience, this is a most enthusiastic Chinese audience. They've not had such a concert for decades. You can relax. This is really a good response."