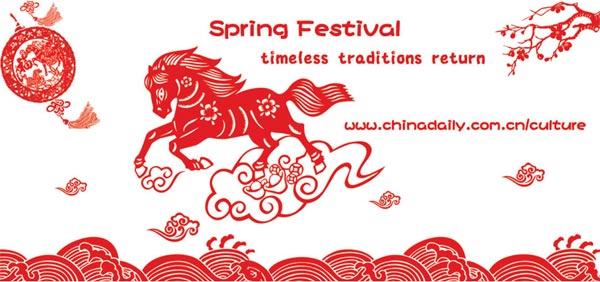 From red lanterns to special dumplings, China readies for Year of the Horse
Spring Festival this year marks the beginning of the Year of the Horse according to the Chinese zodiac that assigns one of 12 animals, either real or mythological, to each year. The horse ranks seventh in the cycle, preceded by the snake and followed by the goat.
A legend goes that horses used to have wings and could fly, swim and run equally fast. A horse that served as the mount of the mythological Jade Emperor became so arrogant that it forced its way into the Dragon King's Palace after killing its guardian. This infuriated the Jade Emperor, who had the horse's wings chopped off and imprisoned it underneath the Kunlun Mountains in the far west.
After more than 200 years, when a man walked by, the horse pleaded to him for help. The man was sympathetic and set the horse free. The animals have since been domesticated to become man's helpers.
Today, the horse is considered an auspicious animal. The Chinese often describe a talented person as qianli ma, meaning a steed that can cover 500 km a day.
A Chinese idiom for "at once" or "immediately" is pronounced as ma shang, which literally means "on horseback". As a result, photos showing cash, a house, or a car on horseback have become the most popular New Year's greetings this year, meaning "be rich, own a house and a car immediately".
One of the funnier photos shows a horse carrying an eggplant, which means "to own everything at once", as an eggplant is pronounced in Chinese as "everything".
Former Chinese leader Hu Jintao is among those born under the sign of horse.
In many Chinese regions, those who encounter the year of their zodiac sign are recommended to wear something red to ward off bad luck, with the most common being red string wristlets, red underpants and red socks.