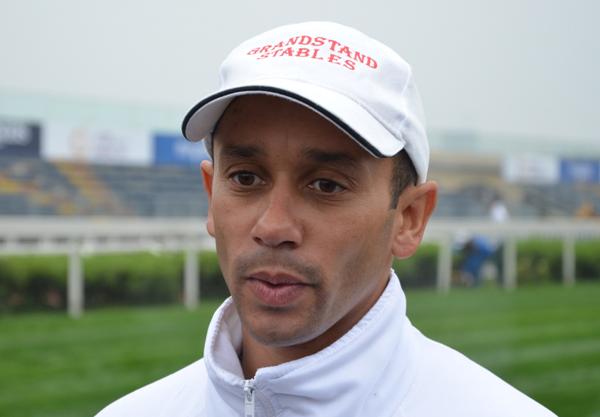 British jockey Royston Ffrench said riders are looking forward to the event. [Photo by Peng Chao]
The purse for Sunday's Chengdu Dubai International Cup Wenjiang-Meydan Classic will total 3.75 million yuan ($603,000), said Frank Gabriel, chief executive officer of the Dubai Racing Club.
Nine jockeys from five countries will compete in five races, riding around 50 thoroughbred horses that were mostly raised in Dubai, England and the United States.
Gabriel said the first three races, the 1,200 meter Wenjiang Sprint, 1,400 m Guangsha Handicap and 1,600 m Meydan Mile, will each carry a purse of 500,000 yuan.
The 1,600 m Wenjiang Meydan Classic is worth 750,000 yuan and the final race, the 2,218 m Chengdu Dubai international, is the day's richest carrying a purse of 1.5 million yuan.
Gabriel said prize money is at very "competitive purse levels" considering it is the first time the event has been staged in Chengdu.
Horses were airlifted to Chengdu from Dubai by Boeing 747 and will be returned the same way after the meeting.
"It is relatively rare that the (Meydan) group send so many horses to a country just for one-day's racing," said Tony Terry, media relations manager of the Meydan group.
All horses are prepared by Dubai Racing Club trainers and ridden by jockeys who take part in the United Arab Emirates racing season, including the $10 million Dubai World Cup Carnival.
US trainer Douglas Watson said none of the horses have taken part in this year's Dubai World Cup, having been selected for the Chengdu event several months ago.
"The horses are in good shape," said Douglas, describing the weather in Chengdu as "horse weather". "Although it is a little cooler than Dubai, the horses will probably like the weather," he added.
The races take place at the Jinma Racecourse in Chengdu's Wenjiang district, where the China Equestrian Festival has been held for the past three years.
Royston Ffrench, a jockey from the United Kingdom, said the facilities are as good as anywhere around the world. "Everything is going well, and we are looking forward to the races," he said.