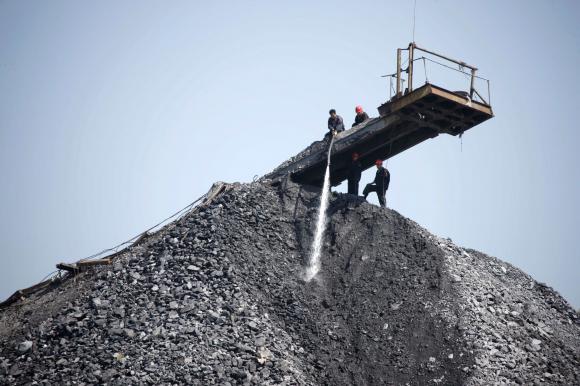 Employees work on a pile of coal gangue in Huaibei, Anhui province, September 17, 2013. [Photo/Agencies]
China will close 1,725 small-scale mines with a total capacity of 117.48 million tons in 2014 as part of its programme to phase out low-quality coal production, its energy administration said on Friday.
Smog-hit China has been desperate to reduce coal consumption, a major source of pollutants, including hazardous airborne particulate matter in the country's cities.
Beijing hopes to close old and depleting mines in the east and consolidate output in a series of "coal energy bases" in remote parts of the country, including the vast northwestern regions of Inner Mongolia and Xinjiang.
The National Energy Administration said in a notice posted on its website (www.nea.gov.cn) that local governments must also encourage mergers and technological upgrades in a fragmented coal sector long plagued by poor safety standards.
They will be obliged to disclose the details of their pit closure program to the public in order to improve enforcement.
Local governments have been under orders to gradually shut all coal mines with annual production capacity of less than 90,000 tons, as well as those mines that are operating illegally and do not comply with state safety requirements.
While China is determined to reduce the share of coal in its energy mix to less than 65 percent this year, its last five-year plan for the energy sector still allows for the construction of an additional 860 million tons of new coal production capacity over the 2011-2015 period.
China aims to cap total coal production at 4.1 billion tons by 2015, up from 3.7 billion tons in 2013, but some experts predict the actual figure will be much higher, given the number of new mine project approvals.