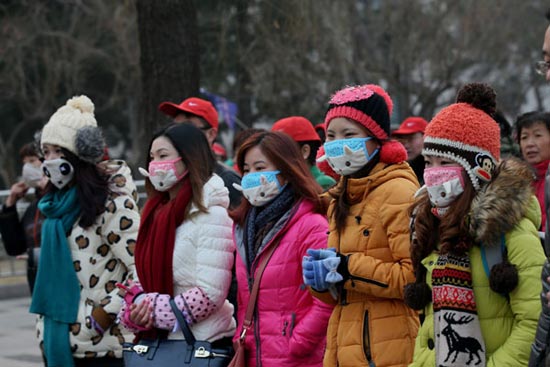 Visitors wearing masks are seen on a hazy day at Tiananmen Square in Beijing March 8, 2014.  [Photo by Wang Jing / Asianewsphoto]
When we cannot escape from smog, we face it head on and overcome it. But the plan will require two transformations, one micro and one macro.
Running away from our problems is a race we'll never win. The same is true when it comes to dealing with the much-highlighted smog in China, except fighting the smog is a lot tougher than expected.
"Efforts must be made to transform the structure of industries as well as change the way we consume energy, curb automobile emissions and enhance urban management," said Vice-Minister of the Environmental Protection Wu Xiaoqing at a news conference at the two sessions.
"Tackling
air pollution
is urgent, but also needs long-term patience," he added.
Air pollution has increased public furor in China, as much of the country was time and again shrouded by the blanket of smog this year and last year, with Beijing and Hebei province bearing the brunt.
On Feb 21, Beijing for the first time cranked up its pollution alert a notch higher to orange, the second-highest level in the country's warning system, as heavy smog lingered over the Chinese capital for at least a week.
The country rolled out a law to minimize and manage pollution in mid-2013, the toughest law ever approved by the State Council, in a bid to answer the growing call for smog control.
"Yet, opinions are divided among experts over the causes of smog in China. It is too complicated, and remains an open question," said Wang Xiaokang, a CPPCC member and chairman of China Energy Conservation and Environmental Protection.
The company is a State-owned enterprise founded in 1988, and the bellwether in the country's environmental protection field.
"Many people attribute smog to the current coal-centered energy consumption structure, which I certainly agree, but I also think a considerable amount of harmful elements in the smog come from water and soil," Wang said.
He was not sure how much, but said water and soil contaminations should also be factored into air pollution control to complete the picture.
Statistics show that more than 50 percent of smog comes from burning coal in China, while around 20 percent from automobile emissions, He Yu, chairman of clean energy giant China General Power Group, said at the two sessions.
Top legislature paves way to amend pollution law
Purifiers help many urban residents breathe more easily while at home
Beijing goes 'all-out' against air pollution
Joint efforts to fight air pollution
Cutting output to help ease pollution