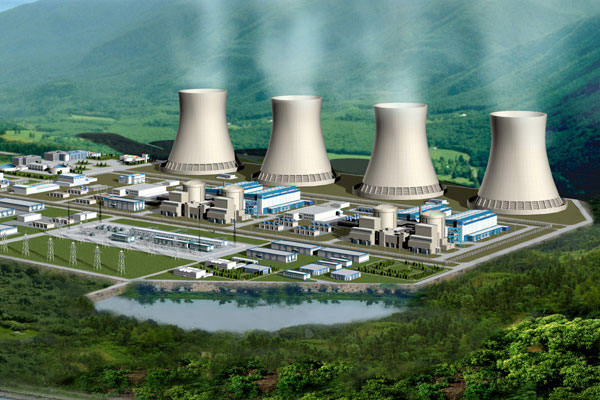 The Taohuajiang Nuclear Power Plant in Hunan province is likely to become the first nuclear power plant project that will be built in China's inland areas. Liu Gang / For China Daily
Taohuajiang would be 1st inland nuclear plant in China
A nuclear power plant in central China's Hunan province is set to resume construction, Xinhua News Agency reported on Saturday.
The Taohuajiang power station likely will become the first nuclear project to be built in an inland area after Beijing suspended the approval of new nuclear power projects due to the Fukushima nuclear power plant disaster in Japan in 2011.
Two other inland projects - the Pengze nuclear power plant in Jiangxi and the Dafan plant in Hubei - are still under suspension.
The report said the plant is ready for construction, the preliminary engineering and necessary documents having been completed.
But China National Nuclear Corp, the parent company of the project, said on its website that some advocacy work is still being carried out in Hunan and that the documents required for the project are currently being prepared.
Zhang Yongxiang, an expert in geology and mining for CNNC's Hunan subsidiary, said the province is short of energy and relies largely on resources from other provinces. Nuclear power generation, he said, can help meet the demand for energy.
"Inland nuclear power plants provide a good way to ease the reliance on coal consumption," he said. "Apparently, the present capacity of nuclear plants in coastal regions cannot support the local economy and the scale of development planned for the country's energy consumption."
In 2012, China's State Council issued a notice, saying that China would approve a small number of nuclear projects along its coast if still needed by 2015 but would not construct any nuclear projects in inland regions.
But as China's worsening air pollution continues to exact a significant economic toll, the country is pressing ahead with more nuclear projects, as noted in Premier Li Keqiang's government work report, which stressed the need to combat air pollution.
He Zuoxiu, a leading theoretical physicist and among the scientists who designed China's first hydrogen bomb, had previously expressed concern over the plan to develop nuclear power stations in inland regions.
He said even though plants in inland and coastal areas have the same safety standards, there needs to be a stricter requirement on pollutant discharges and radioactive effluents with low radiation.
Wang Yumin, deputy director of the National Energy Administration, said earlier last month that inland projects, which have been listed in the next five-year plan, will start after the nuclear plant projects are completed along the coast.
Local citizens oppose such projects, he said, but utilizing third-generation technology can avoid Fukushima-like catastrophes.
Wang said it takes time for the public to dispel doubts and that public information campaigns need to be undertaken.
By the end of 2013, China had a total of 17 nuclear power plants in operation, with a total installed capacity of 14.83 million kilowatts. The nation is building a further 31 reactors, accounting for about 40 percent of the world's nuclear power plants in current construction, according to the National Energy Administration.