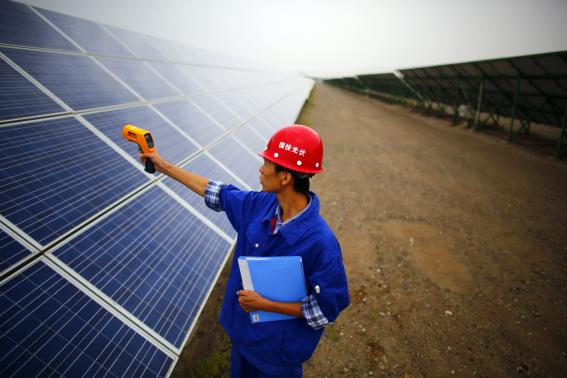 A worker inspects solar panels at a solar farm in Dunhuang, 950km (590 miles) northwest of Lanzhou, Gansu province Sept 16, 2013. [Photo/Reuters] 


Government incentives help focus efforts on power plant development
Chinese solar panel makers are looking to invest in solar power farms to boost earnings after a drop in panel prices due to oversupply.
Hit hard by trade disputes as well as a massive glut in the solar panel industry, the prices of Chinese silicon wafers and solar cells tumbled, leading to losses and even bankruptcy for many solar cell makers.
Because of this, many companies in the sector are now eyeing solar plant construction and development projects attracted by government subsidies, industry insiders said.
"There's a clear trend indicating that solar panel makers are making more downstream investments," said Ren Haoning, a senior analyst at research company CIConsulting. "Many of these companies are reducing their old business areas and building new solar power plants, since solar plant development is a more lucrative business."
In a bid to ease overcapacity in the domestic solar panel industry, China has rolled out a series of incentives ranging from tariff to tax cuts for both utility-scale and distributed generation projects.
Those projects are expected to see about 15 gigawatts of capacity installed in 2014.
In July, the National Development and Reform Commission, the country's top economic planner, raised subsidies for distributed solar power generation projects from 0.42 yuan to 1 yuan for every kilowatt-hour of electricity.
Trina Solar Ltd, one of the largest domestic solar module manufacturers, said recently it plans to increase its investments in solar power plant projects in the next three years.
A recently completed 50-megawatt solar project, which was connected to the grid in September, is already generating electricity on schedule, said Gao Jifan, chairman and CEO of Trina Solar.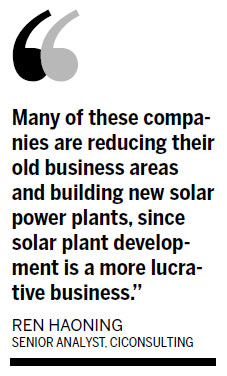 "We're also building solar power generation projects in Jiangsu province, given the high potential growth in the domestic market," he added.
The company also plans to develop a 1,000-mW generating project in Hunan province, which Gao said was "a major step toward increasing the weight of the solar generation business in our overall revenue".
Wang Qiang, president of a panel maker in Shandong province, said his company also plans to expand its domestic business with a focus on the solar power generation industry due to government subsidies.
"Exports used to account for more than half of our business, but as solar panel prices remain weak, we're looking for higher-margin businesses with an aggressive expansion plan for solar generation projects," Wang said.
However, analysts are skeptical, citing a lack of infrastructure and the low efficiency of grid connections.
"Companies can usually get an annual gross return of around 10 percent for power plant projects, but the risks are higher as well," Ren said.
"If local governments speed up the examination and approval processes for photovoltaic projects, which saw a lot of investments in the industry, there will likely be a great leap forward in the downstream industry chain."
He also warned of financial, regulatory and technical risks in domestic projects, which have been hurt by delays in subsidy payments and poor infrastructure.
China's solar industry rebounds
Solar firms face 'total eclipse' in the US
End to China's solar edge in EU as tariff kicks in