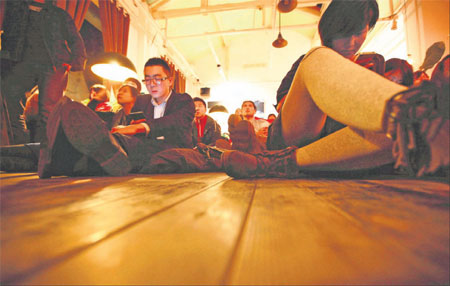 Sofar Sounds is changing the face of live music and its magic is spreading to China as the secret gig movement is embraced by more fans. Photo Provided to China Daily
Music lovers savor being part of small gatherings with a mixed bag of live bands they may not have heard before, Zhang Yuchen discovers.
What is the appeal of listening to a live performance by a band standing a couple of meters away? When Sofar Sounds was started four years ago, its mission to maintain intimacy in live music meant being more than making background melodies for chatting smokers and drinkers. In 2013, the secret gig movement blew into China like a refreshing wind. Bemused invitees for a yet-to-be-confirmed venue are informed only 48 hours ahead. The secret gig keeps mum the lineup of musicians or bands until the very start of a show in an undisturbed space with no drinks, no smoking and only 20 minutes' break in four hours of performance. "I encountered Sofar Sounds by chance," says Qin Meng, director of Sofar China.
"I met Rafe Offer, one of Sofar's founders, at a London Sofar gig and told him I would love to help out. He asked, 'What do you think of taking Sofar to China?'"
There have been four intimate, "secret" gigs in Beijing since July and one in Shanghai in December. After learning about Sofar from friends or social media, guests are notified of gigs through a subscribed mailing list, but they may have to wait a couple of months for an official invitation.
Sofar (short for "sound from a room") Sounds was launched in a London living room and now operates in 45 cities on five continents.
Singers or bands are invited to perform without being limited to a certain genre. The result is a mix of environmental themes, folk and ethnic songs, even country western music-anything goes as long as the music's quality is good and the musicians can perform unplugged. However, Qin and her new volunteers have a review group in China: Only the bands they approve go onstage.