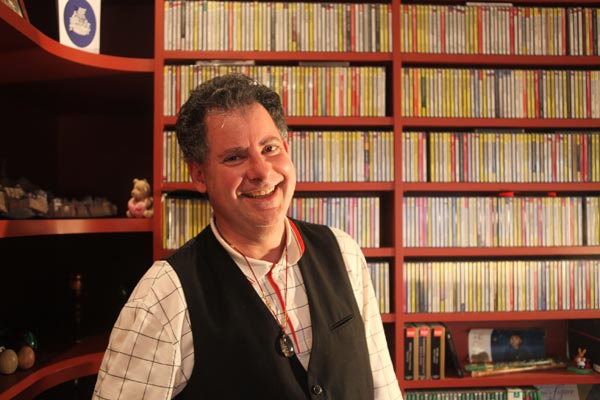 Conductor Eric Lederhandler is following his pioneering father in fostering friendship between China and Belgium.[Photo by Fu Jing/China Daily]
A Belgian conductor is determined to introduce the pleasures of Western classical music to more people in his adopted second motherland, Fu Jing reports.
Belgian orchestra conductor Eric Lederhandler is following his energetic father in fostering friendship between China and Belgium. Eric's father, Henri Lederhandler, began using his business acumen in the 1960s, when there was little contact between Western countries and China, to foster relations between the new republic and his native Belgium.
Now, Eric uses his concert tours to China to deepen those relations.
As the son of one of the most important founders of the modern China-Belgium relationship, Eric says he has more close friends in China than in his own country.
Lederhandler can still remember his first trip to the "second motherland" of his father in 1993. He was invited to Beijing to attend the 30th anniversary celebration of the founding of his father's import-export corporation.
Though he grew up with Chinese diplomats, politicians and businessmen visiting his home, that trip was still a culture shock for the then 28-year-old Belgian.
"I was shocked by the difference, the construction everywhere, the infrastructure and the way of life," recalls the now 48-year-old conductor, as he relaxes in his house in Wemmel, on the outskirts of Brussels, which is decorated with many Chinese souvenirs.
Ten years later, he was invited to revisit Beijing to conduct the Chinese National Symphony Orchestra. He found a completely different city on his second visit.
As a conductor working with many Chinese orchestras, such as the Central Philharmonic Orchestra and the national, Lederhandler has seen how these orchestras operate.
"Orchestras in Shanghai and Beijing work more like the way we do in the West, from their organization, their mental approach to the way they handle the artists," he says. He thinks provincial orchestras operate in a more traditional, casual and flexible way.