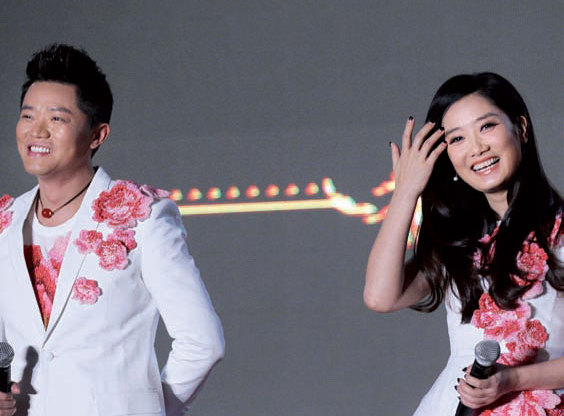 Phoenix Legend has won increasing popularity since they released their debut album with Peacock Records in 2004. Zou Hong / China Daily
When Chen Jinfang and her younger brother Chen Rentai started their record company in 1993, neither knew much about the music industry.
Chen Jinfang was selling home appliances in a State-owned company in Guangzhou, earning 1,000 yuan ($170) a month, while her brother, a big fan of pop music, often went to Hong Kong to buy CDs. He liked singing karaoke because of his good voice, which his friends said, resembled that of Hong Kong pop star Alam Tam.
The two made the bold decision, mainly because she believed in her brother's music intuition and she was confident about her talent in sales.
Decades later, the Guangzhou-based Peacock Records has become one of the few record companies that can claim to have never lost money in the country's declining market.
Chen Jinfang and Chen Rentai have discovered some of the most popular singers in China. Singer-songwriter Zheng Yuan's 10,000 Reasons was downloaded more than 120 million times as a cellphone ring tone, according to statistics from China Mobile. Meanwhile, pop duo Phoenix Legend has sold more than 6 million albums in China since 2005, and 10 songs from their four albums have recorded 1 billion online hits since 2004. One of their hits, Most Dazzling Ethnic Trend, even reached the United States in 2012, when it was used by cheerleaders during an NBA Houston Rockets game.
While those songs achieved big commercial success, they have been considered critically flawed. Critics regard such music to be rather low-brow.
"I know that many people call Phoenix Legend a pop duo for farmers. I don't think it's a bad thing. There are millions of farmers in China, which is a huge fan base and a consuming power," says Chen Jinfang. "What we want is to reach a bigger audience. For us, a good song means making the listener happy."