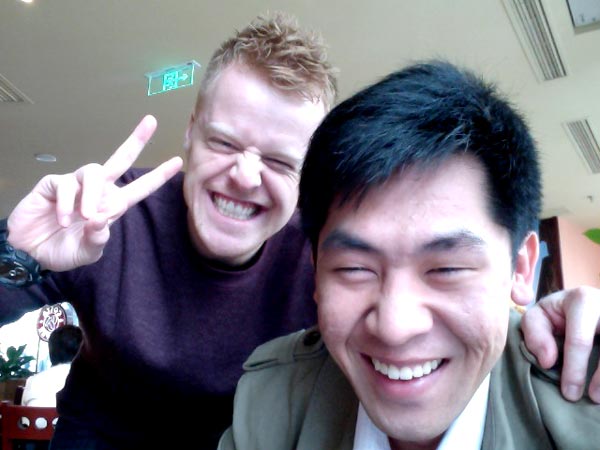 Tyler Christler in a selfie with his former roommate Song Yang. [Photo provided to China Daily]
Tyler Christler, on the other hand, wouldn't mind appearing on TV. In September, the 30-year-old American and a Chinese friend began recording language tutorials on video, which they share online.
The program introduces viewers to words in the dialect of Dalian, in Northeast China's Liaoning province. Although the dialect belongs to the same family as Mandarin, it has some distinct vocabulary and tone differences. In between bantering, Christler and his male co-host translate their featured Dalian words into standard Mandarin and English.
"A foreigner can speak the Dalian dialect. Amazing!" one viewer comments online.
"Dalian's dialect is going to rule the world," another says.
World domination isn't part of the plans of Christler, a talent recruiter who has lived in Dalian for most of his five-and-half years in China.
"It's personally just for fun, and it's contributing to the culture here in Dalian," he says in a video call.
The publicity also helps with his headhunting job - just as learning Dalian's dialect has aided matters of the heart.
Christler, who hails from Portland, Oregon, decided to seriously study the dialect when he was dating a Dalian local. At a dinner with his then girlfriend and her friends, he realized being fluent in Mandarin wasn't enough.