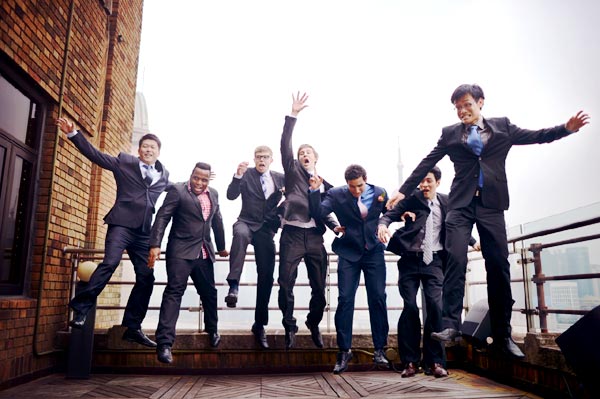 Jayme Lawman(middle) celebrates his wedding day with his groomsmen. Lawman started learning Shanghainese while he was dating his wife. [Photo provided to China Daily]
Some foreigners in China go beyond mastering Mandarin to tackle diverse vernaculars. Tiffany Tan talks about how they progressed from tongue-tied to terrific.
Mandarin is considered one of the hardest languages for a native English speaker to learn.
But, as if China's main dialect weren't difficult enough to master, Jayme Lawman decided to also take on Shanghainese.
The Englishman has become so proficient that he was featured in the documentary Searching for the Shanghai Dialect on Shanghai television in March.
When the film starts, Lawman - introduced by his Chinese name Luo Sijie - is shown greeting a shopkeeper in Shanghainese.
"Oh, you speak it very well," the middle-aged woman says, surprised to hear a foreigner using her native tongue, since many young Shanghainese are abandoning their dialect.
"How long have you been living in Shanghai?"
The Northampton, England, native came to China in 2008 to attend Shanghai International Studies University. He was content knowing only Mandarin for the first three years. Then his Shanghainese girlfriend invited him to the first dinner with her parents.
"I am sitting there at the dinner table, and I don't know what anybody is saying," the 23-year-old says in a video call.
"It was frustrating. It was like starting all over again."