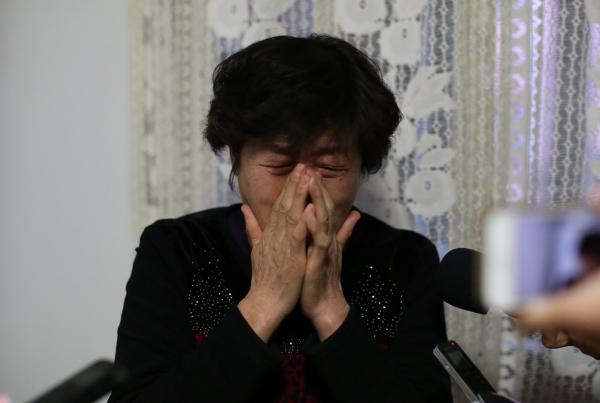 Shang Aiyun, 62, Huugjilt's mother, cries after receiving the news of her son's acquittal. [Photo/thepaper.cn]
A man sentenced to death and executed in a controversial 1996 rape and murder case was acquitted of his crimes 18 years later in Inner Mongolia autonomous region on Monday.
Huugjilt, who was 18 at the time of his conviction and execution, had his innocence officially announced by Zhao Jianping, deputy chief judge of the Inner Mongolia Autonomous Regional Higher People's Court, who also expressed profound apology to his parents.
Huugjilt was found guilty of raping and murdering a woman in a public toilet in Hohhot on April 9, 1996. He was sentenced to death and executed in June 1996.
The court brought 30,000 yuan ($4,500) in compensation while delivering the retrial verdict to Huugjilt's parents at their home in Hohhot, capital of Inner Mongolia autonomous region on Monday morning. The court also pledged further compensastion.
The lawyer representing Huugjilt said a process will be initiated to ask for State compensation since his client was exonerated.
The court rescinded the previous ruling on the grounds that Huugjilt's confession on how he committed the crime contradicted with the victim's postmortem report. In addition, his account of the woman he "murdered", didn't match with the victim, a young woman surnamed Yang, including the appearance and accent.
Shang Aiyun, 62, mother of the dead Huugjilt, said she would copy the court paper, and burn the print in front of her son's grave to "comfort his spirit that has been suffering from the pain of a wrongful charge."
The rape and murder took place on April 9, 1996, and Hugjilitu was convicted of the crimes and sentenced to death on May 23. Just 18 days later, June 10, he was executed.
However, since his sentence, another alleged serial rapist and killer, Zhao Zhihong, confessed to the murder after he was arrested in 2005.
Miao Li, the lawyer representing Huugjilt's family, said by reviewing files she found no evidence supporting that Huugjilt raped and murdered the woman.
"According to the principle of presumption of innocence, the exoneration is not out of question." she said.
Earlier this month, Inner Mongolia Public Security Bureau had established a team to investigate all the police officers involved in the processing of the case in 1996, to find out the policemen, prosecutors and judges who could be blamed for the wrongly executed case. The team is led by bureau's deputy head.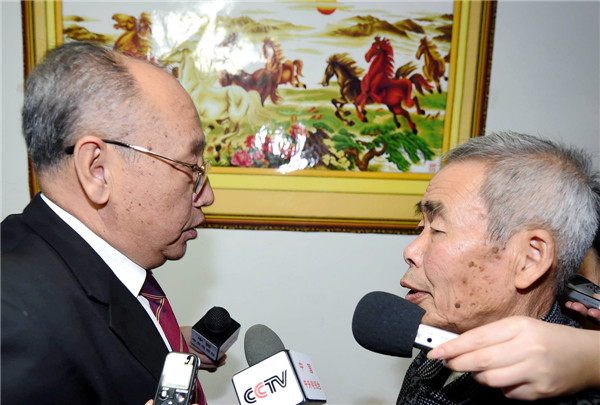 Zhao Jianping, left, vice president of the Inner Mongolia Higher People's Court, apologizes to Huugjilt's father on Monday for the mistake made in sentencing the young man. [Photo by Wang Wei/ Asianewsphoto]