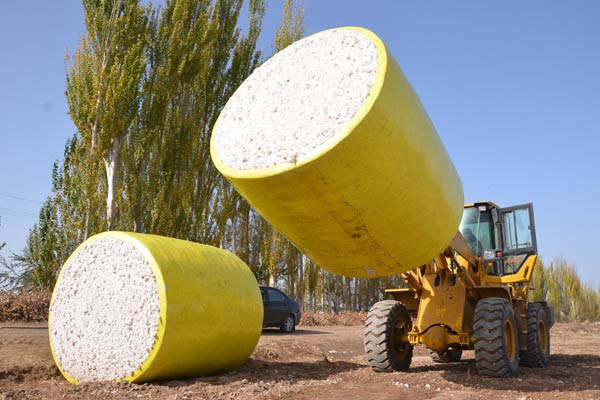 Cotton is baled in Alaer, Xinjiang Uygur autonomous region. Use of modern machinery and technologies is expected to allow for considerable progress for China's agriculture. CHEN JIANSHENG/CHINA DAILY
China can make considerable progress in food self-sufficiency if it uses methods like consolidation of farmlands and encourages use of modern machinery, technologies and good practices for agriculture, said a report published by Rabobank.
The Netherlands-based banking and financial services company said China can improve its food self-sufficiency by 10 percent in the next decade by using modern techniques. According to the lender's estimates, the higher self-sufficiency levels in China will lead to higher grains and oilseeds harvests of 61 million metric tons and 3 million metric tons, respectively.
"Bigger farms would allow best practices to be applied with more efficiency across China. Chinese food and agricultural companies should also invest more in research and development to develop farm input products that can boost yield and sustainability," said Sam Gao, an analyst with the food and agribusiness research and advisory department at the Shanghai branch of Rabobank Nederland.
Chinese enterprises have already been moving up the supply chain in the global market by acquiring farmland in overseas markets, contracting local labor and owning equipment and facilities to have better bargaining power in pricing, said Wang Aochao, director of the food and agribusiness research and advisory department of Rabobank Nederland's Shanghai branch.
Some Chinese companies have also used merger and acquisition strategies or become stakeholders of foreign enterprises to enter markets of higher added value and expand their product offerings, said Wang.
Shanghai-based Bright Food (Group) Co Ltd acquired a majority stake in Italian olive oil producer Salov Group in October.
The State-owned multi-business conglomerate COFCO Corp said in October that it had acquired controlling stakes in two global agricultural commodities traders-the Netherlands-based grain trader Nidera BV and Hong Kong-based commodities trader Noble Group Ltd.
Analysts said technology will be major driver for China to realize a green, sustainable and fair-trade path for agricultural development.
Shenyin & Wanguo Securities Co, a Shanghai-based research firm, said in a recent report that: "Consolidated production and technology-driven higher efficiency will help secure food security, which means less reliance on imports and greater reliance on self-sufficiency. It is also important to liberalize the pricing of agricultural products and improve farmers' incomes."
The Central Economic Work Conference, which was held last week, a meeting that sets the tone for next year's policies, also called for higher yields and better efficiency of agricultural output.
"The big food and agricultural companies should participate in stretching the value chain to incorporate the farmers and merged farms at the upstream end, investing in farm production, extending their modern enterprise management systems to big farms and offering direct and enhanced financial returns to farmers," said Wang from Rabobank.
China can also improve meat and seafood availability by developing cold chains, which will help meet the demands of the rapidly expanding middle class, improve food safety and reduce food loss and waste, the Rabobank report said.