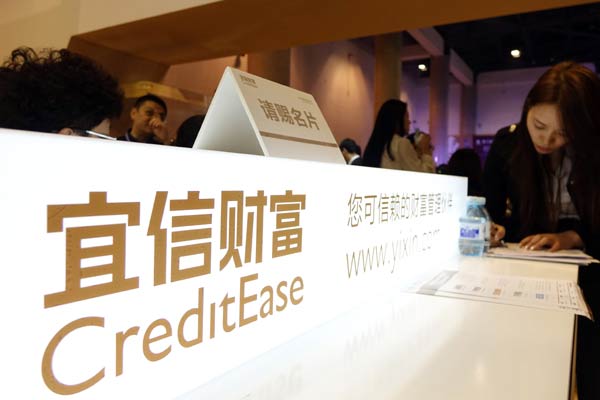 Wealth management company CreditEase Corp's stand at a finance expo in Beijing in October. The company says it is relying on big data technology to give consumers quick decisions on loans.[Provided to China Daily]
Leading domestic peer-to-peer lending and wealth management company CreditEase Corp has been relying on big data technology to give consumers quick decisions on loans, senior executives of the company said.
P2P finance involves lending money to unrelated individuals, or peers, without the use of a traditional financial intermediary such as a bank.
"We believe everyone has credit and his credit can be valuable, so we are developing big data technology" to help evaluate individuals' credit, said Chief Executive Officer Tang Ning. "Our technology will not only help our own clients, but also be available to the whole sector."
Joyce Zhang, head of the company's big data innovation center, said that the company harvests data from borrowers themselves, cooperative partners such as e-commerce sites, CreditEase's own database and the Internet.
Each person's data go through a risk control assessment. After that process is complete, the data "will be analyzed at a financial cloud platform of CreditEase to make a quick and individual lending determination", Zhang said.
Yirendai, a P2P lending platform of CreditEase, offers quick decisions on consumer credit via this process. Consumers who apply for loans using the Yirendai app must provide data on their credit cards, e-commerce transactions and mobile phone carriers.
They get a decision within 10 minutes, and if the loan is approved, it is disbursed the same day.
Since the program began on Oct 7, the company has made loans exceeding 300 million yuan ($48.4 million).
Another CreditEase quick-decision Internet lending product using big data technology involves cooperating with partners to serve micro-sized and small merchants.
CreditEase and the United States-based e-commerce company eBay Inc agreed in September to cooperate on credit decisions involving Chinese merchants on eBay. CreditEase said there have been no defaults by such clients so far.
Zhang said that the company is discussing such links with other companies, which she declined to identify.
"The application of big data in the Internet finance sector has great potential and it's just getting started. We would like to cooperate with other players in the market," said Zhang.
Zhejiang Ant Small and Micro Financial Services Group Co, a division of Alibaba Group Holding Ltd once known as Alipay, aims to build an open platform based on data, technology and trading to serve micro-sized and small enterprises, as well as individuals.
Other P2P lenders are also using big data technology, including PPdai.com and Yuanbaopu.com. Some of the third-party big data platforms serving the finance sector include Wecash.com and digcredit.com.
Cai Esheng, former vice-chairman of the China Banking Regulatory Commission, noted that information asymmetry can be a major risk in finance, and big data collection may be a major step toward resolving that problem. But Cai said that it is also important to verify the data.