WASHINGTON - Cuba has released Alan Gross, an American subcontractor it had held for five years, a move that paves the way for a potential thaw of relations between the two countries, US media reported on Wednesday.
"Mr. Gross was released on humanitarian grounds by the Cuban government at the request of the United States," USA Today quoted an administration official as saying, adding that Gross has departed Cuba on a US government plane bound for the United States.
Gross was convicted of espionage by a Cuban court in 2011 and sentenced to 15 years for bringing telecommunication devices into Cuba while working as a subcontractor for the US Agency for International Development, according to ABC News.
Three Cubans held by the US were also being released, The New York Times reported on Wednesday, citing administration officials, who insisted that this was not a prisoner swap for Gross.
White House said President Barack Obama will deliver a statement on Cuba at Wednesday noon. He is expected to announce a major loosening of travel and economic restrictions in the most sweeping change in US policy towards Cuba in decades, according to US media reports.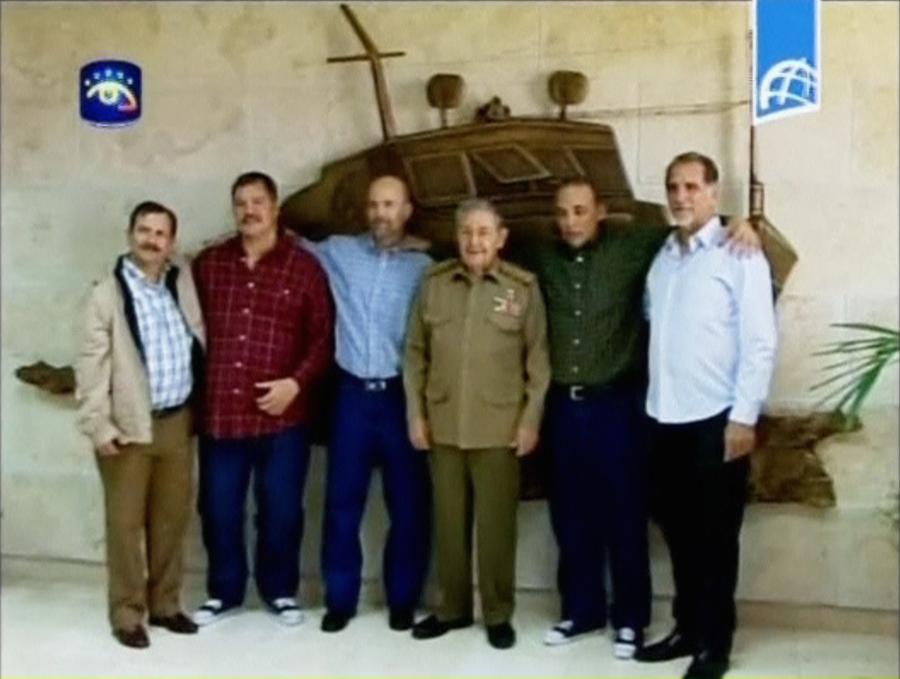 Cuban leader Raul Castro (C) poses with (L-R) Fernando Gonzalez, Ramon Labanino, Gerardo Hernandez, Antonio Guerrero and Rene Gonzalez, after three Cuban intelligence agents Labanino, Hernandez and Guerrero arrived in Havana in this December 17, 2014 still image taken from Cuban Government TV. Three Cuban intelligence agents, jailed in the US since 1998, arrived in Havana on Wednesday as part of a prisoner swap between the two countries that helped usher in a major policy change as the two countries agreed to normalize relations after more than five decades of hostility. Fernando Gonzalez (L) and Rene Gonzalez (R) were previously freed. [Photo/Agencies]