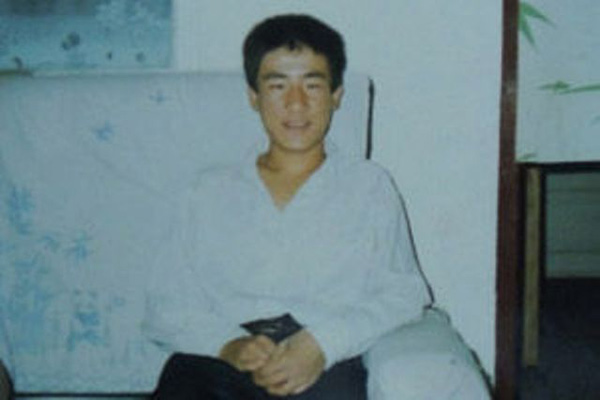 An old picture of Hugjiltu, who was convicted of raping and murdering a woman in Hohhot on April 9, 1996 and executed, aged 18, two months later.[Photo provided]
The sole witness in a controversial 1996 murder case in North China's Inner Mongolia autonomous region shared some previously unknown information as a retrial began on Thursday.
Yan Feng, now 37, was a friend and coworker of Hugjiltu, who was convicted of raping and murdering a woman in Hohhot on April 9, 1996 and executed, aged 18, two months later.
The bullet that ended Hugjiltu's life also killed Yan's future. As a close friend of a "murderer and rapist," he had to leave his hometown to find work in other parts of the country and was never able to marry.
Yan said he never believed his friend was a killer and all he wanted over the years was to see the truth come out and justice be served, Sina News reported.
He saw an opportunity to clear his friend's name and return to a normal life in 2005 when Zhao Zhihong, a suspect accused of 10 counts of rape and murder admitted the 1996 crime.
However, the case was not listed on Zhao's indictment.
What Yan did not expect was that he had to live under public suspicion as some began to question why he didn't tell police the truth and whether he had betrayed his friend.
Hugjiltu and Yan were drinking at a bar on the night on April 9 when Hugjiltu left to buy gum. When he returned he said he had heard something happening at a public toilet nearby and asked Yan to check what was going on.
They discovered the half-naked body of a woman before calling the police. Both Hugjiltu and Yan were taken for interrogation, although Hugjiltu was never able to return home again.
Yan said they were questioned in different rooms and police began to ask him questions about his friend.
They asked about Hugjiltu's character and if Hugjiltu had watched pornography that night before drinking, obviously taking Hugjiltu as the prime suspect, according to Sina News.
Yan told the police that his friend was a good man but the police tricked him into talking more about Hugjiltu, telling him his friend "had confessed everything" and that Yan could be charged with helping Hugjiltu cover up a crime.
He finally told police that Hugjiltu told dirty jokes sometimes. Yan said this was a secret he has been concealing over the years and that the pain never goes away in his mind, Sina News reported.
"But isn't it normal for a young man to tell such jokes?", Yan asked. He believes Hugjiltu would not blame him if he was still alive.
Yan said he had heard Hugjiltu groaning and noises made by tables and chairs moving in the other room and sensed Hugjiltu must had been beaten during his interrogation, according to the report.
When Yan was released the next morning, he saw Hugjiltu was handcuffed to a radiator wearing a helmet to prevent him from killing himself.
That was Yan's last sight of his friend. When Hugjiltu looked up at him Yan said he avoided eye contact, not knowing if it was because of fear.