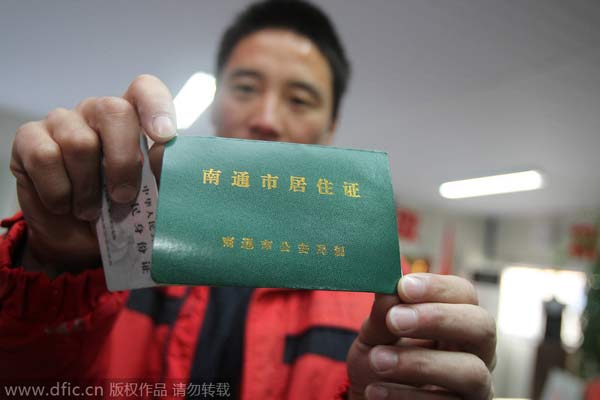 A man displays his newly received residence permit in Nantong, Jiangsu province on December 19, 2013. [Photo/IC]
China unveiled a plan to reform the country's residence permit system on Thursday that would grant migrants equal access to more public services.
Residence permit holders would be able to get benefits such as medical services and education for their children like urban dwellers, according to the plan released by the Legislative Affairs Office of the State Council.

Public opinion on the reforms is being solicited before the formal plan is released.
Migrant workers who stay in a city for half a year with a stable job and residence may apply for the residence permits.
China plans to phase out its hukou, or household registration system, and help about 100 million people settle in towns and cities by 2020.
Currently, citizens without urban hukou do not enjoy equal access to public services in cities.
The reform to allow migrants in China to enjoy basic welfare and services is "a big leap forward" as it could help eliminate regional discrimination and improve the free movement of labor, said Liu Hongbin, a professor with People's Public Security University of China, the Beijing News reported.