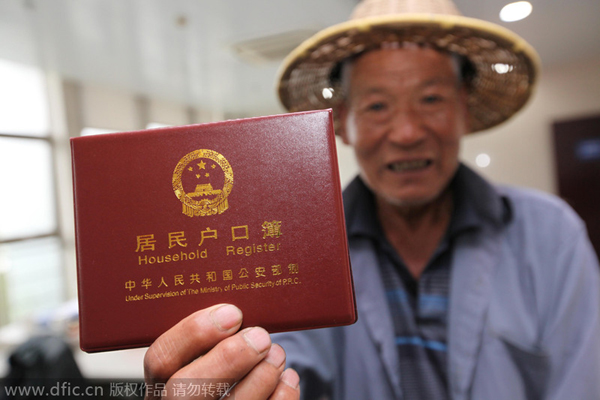 A resident shows his household registration at a civil affairs service center, Lianyungang city, East China's Jiangsu province, July 31, 2014. [Photo.IC]
In a long-awaited reform, four Chinese provincial regions have removed the rural/urban distinction in the household registration system, or "hukou", making things fairer for residents, chinanews.com reported.
The four regions are Henan, Heilongjiang and Hebei provinces and Xinjiang Ugyur autonomous region, said the report.
The regions stipulated there will be no more rural hukou and urban hukou, with both rural and urban dwellers registered as "residents".
They are the first provinces to put into action a State Council document on reform of China's household registration system, which was released on July 30, urging officials to scrap the urban-rural distinction.
Northeast China's Heilongjiang province said the distinction was removed since Nov 1 this year, and people can now change their hukou at local public security stations. For example, dwellers with a "rural hukou" can change it for one that just reads "resident".
Southwest China's Guizhou province and East China's Jiangxi province also introduced drafts of reform plans, and the public's feedback is being solicited on the drafts.
Guizhou's draft schemes propose that from Jan 1 next year, households will no longer be labeled as "urban or rural" but as "collective households or family households". The collective households refer to those who register under an organization, such as a workplace.
Set up in 1958 in order to control mass urbanization, China's hukou system effectively divided the population in two - urban households and rural households.
Under the system, rural citizens have limited access to social welfare in cities and are restricted from receiving public services such as education, medical care, housing and employment, regardless of how long they may have lived or worked in the city.
Related:
China initiates migration of 100m farmers into cities
Reforming hukou will unify rights of migrants