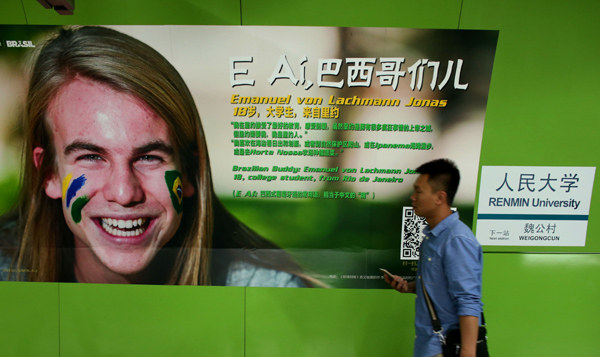 A passenger walks past a post promoting the upcoming World Cup at the Renmin University station on Line 4 of the Beijing subway. [Wang Jing / China Daily]
A plan to adorn each station on Beijing's subway Line 4 with the name of one of the 32 soccer teams playing in the World Cup has been dropped, much to the disappointment of frequent travelers.
A statement from Beijing MTR Corp, which operates the line said the plan was cancelled to avoid confusion among passengers who are not familiar with the line, which has 35 stops.
"In order to ensure the safe operation of the subway and passenger convenience, and to avoid unnecessary impact on passengers, none of the name tags of soccer teams playing in the World Cup will appear in stations again," the company said on Weibo on Tuesday.
Last week, the names of soccer teams were placed above the names of stations on a trial basis to "create an atmosphere for the World Cup" according to the company's statement. A placard with the name and flag of Spain was placed above the sign for Xidan station, while Renmin University station had a sign for Brazil.
But two days ago, the subway operator began taking down the signs.
According to the statement, the signs were taken down due to online concerns that the soccer teams' names may cause confusion among passengers, especially those who are not familiar with Line 4.
"I don't understand why they took the signs away," said Fu Weixin, 23, a finance student at Renmin University of China.
"I've never seen a cooler change in the subway than this. It was so awesome."
Liu Ye, 23, who was on a Line 4 train heading north, said, "It was quite a shame that they cancelled it.
"I don't think passengers will be confused just because of the soccer teams' signs. The original signs are still there," he said.
Not everyone found the company's decision to remove the names hard to understand.
"There are so many visitors in Beijing. They're not that familiar with this city," said Li Yang, 34, who was born and raised in the capital.
"It makes sense, as they may get off at the wrong stop. When people complain, the company of course backs off."