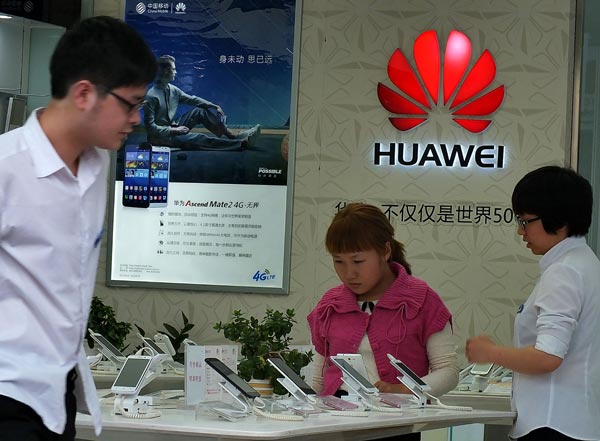 Two shoppers in Yichang, Hubei province, examine Huawei-brand mobile phones. Russia's MegaFon chose Huawei as a partner to speed mobile networks in Russia. Liu Junfeng / For China Daily
OAO MegaFon, Russia's second-largest wireless operator, agreed to buy at least $600 million of equipment from Huawei Technologies Co at a time when ties between Russian and Chinese companies are strengthening.
MegaFon chose China's largest maker of network products for a seven-year contract to speed mobile networks in several Russian territories, Chief Strategy Officer Alexander Bashmakov said in a phone interview.
The deal, including software and maintenance, is worth "dozens of billion rubles," he said.
Russian companies have boosted ties with China after the United States and European Union imposed sanctions on the country to punish it for annexing the Crimean peninsula from Ukraine.
OAO Gazprom, Russia's biggest company, signed a $400 billion deal last month to ship natural gas to China.
"Huawei is one of the technological leaders in 4G equipment," Bashmakov said. "They are leading in the number of signed contracts with operators. The Russian market is very competitive in equipment prices, unlike the US, where supplies of Chinese equipment are limited."
MegaFon based its choice of Huawei on financial and technological factors rather than politics, Bashmakov said. MegaFon, controlled by Russia's richest man, Alisher Usmanov, and partly owned by TeliaSonera AB, will use a credit line from China Development Bank to fund the purchases.