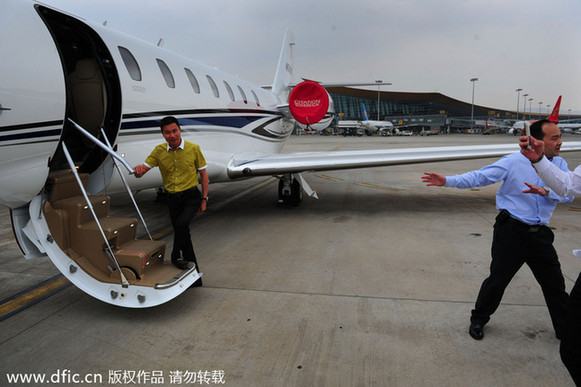 Private plane was shown to potential buyer at Kunming Airport, Jun 5, 2014. [Photo/IC]
With 100 years of aviation heritage, Piaggio Aero Industries SpA has only ever made planes in its native Italy. Now the supplier of private aircraft for the Ferrari motor racing team is looking into a new joint venture far from home - manufacturing in China.
With the Ferrari family still owning a small stake, Piaggio Aero has talked to Chinese state companies and provincial government officials about setting up a joint venture to make planes, according to Giuliano Felten, its chief commercial officer.
If Piaggio Aero finds a partner, it will join a growing string of smaller aircraft makers who have drawn inspiration from the way global automakers teamed up with local partners over 20 years ago, eventually turning China into the world's biggest auto market.
For plane makers from Cessna to Embraer, the business jet market in Greater China offers the prospect of rampant growth. Deliveries could top 2,400 over the next 20 years, worth more than $65 billion and eight times the current fleet, according to Canadian aircraft maker Bombardier - a fraction of the $257 billion expected in sales in North America over the same period, but still a major growth opportunity.
"It will be easier for everybody to play in this country while having an ambassador participating in the country as opposite to importing the products from abroad," Piaggio Aero's Felten told Reuters at a recent industry showcase in Shanghai. "We are considering this very seriously," he said, declining to identify potential partners in China. There is no project on the table for now in what is "a future possibility", he said.
Piaggio Aero shares family roots with Milan-listed scooter maker Piaggio & Cie SpA, home of the Vespa, but is now 98 percent-owned by Abu Dhabi investor Mubadala Development Co. Piero Ferrari, son of auto racing legend Enzo, owns the remainder. The company declined to give details of its sales performance in China.
Drawing aircraft makers to China fits with Beijing's plans to make the country a major manufacturing base for aircraft production, from small aircraft to fully fledged commercial planes that can compete with the likes of Airbus Group and Boeing Co. Yet while China's auto manufacturing base has expanded rapidly, its own automakers still struggle to compete with Western rivals.
Auto model
In the auto industry, China, unlike Brazil or India, requires foreign automakers who want to manufacture in the country to team up with local partners, who share half the proceeds and use the joint venture production to bolster their own earnings. Foreign aircraft makers are also required to team up with a local partner to make jets in the country.
After a steep learning curve for foreign firms, China became the world's biggest auto market five years ago, with sales for 2013 reaching 22 million vehicles. Foreign automakers, moreover, remain the legitimate owners of their brands and core technologies.