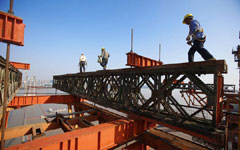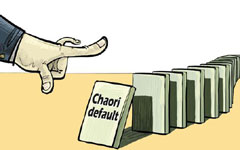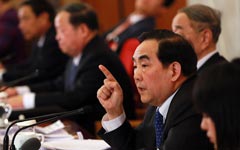 Repayment pressure for local governments will escalate this year, as more debt matures, a top government official said on Tuesday.
Vice-Minister of Finance Wang Bao'an said in a recent meeting with finance ministry officials that nearly 21.89 percent of the outstanding local government debt will mature by the end of this year. An official survey last year indicated that China's local government debt stood at 17.9 trillion yuan ($2.86 trillion) by the end of June 2013.
Though the debt repayment levels are slated to go up this year, the overall numbers are still under control, Wang said adding that at no point would the government lower its guards."Overcapacity and accumulation of local debt are key issues for the central government, as both could spiral into a financial crisis if left unchecked,"he said.
Citing aspects like slower growth in fiscal revenue and higher expenditures, Wang said payment pressures for local governments will continue to grow in the long term.
China's surging fiscal revenue growth over the past few years is stabilizing with a slowing economic expansion. In the first quarter, government revenue totaled 3.5 trillion yuan, up 9.3 percent year-on-year.
Meanwhile, fiscal expenditures grew 12.6 percent year-on-year in the same period to 3.04 trillion yuan. Over the next three years, local governments will have to face matured debt equaling about 17 percent, 12 percent, and 8 percent of the total debt scale.
What comes with the massive debt are the interest payments. For example, in 2012, the annual interest rate of governments' borrowings via their financing vehicles was 8 percent. The cost was even higher in the shadow banking system. Annual cost of trust financing can be as high as 24 percent, and 42 percent for government-repo financing.
Tackling the debt repayment issue is also important due to the irregularities and multiple channels associated with government financing. According to estimates, there are 154,000 borrowers involved at various levels in government organizations and State-owned enterprises, using more than 30 financing tools.
To address these issues it is important to press ahead with reforms and set up a modern fiscal system, Wang said.
China's top decision-makers had earlier this month reviewed an overall plan for fiscal reform. As the vice-minister in charge of macroeconomic research and fiscal policy in the finance ministry, Wang's speech assumes even more importance as it clearly spells out the need for sustained fiscal reforms.
According to Wang, more transparency in the budget system, a fair tax system and a reciprocal transfer-payment system between the central and local governments should be cornerstones of fiscal reforms. "The central government will take back some of the fiscal expenditure duties from the local governments to ease the burden. Central funding for special programs floated by the local governments will be reduced by a third this year, and even further in the future,"he said.
China is also allowing more local governments to issue bonds directly, rather than the indirect approach they used earlier, as it will help settle the debt ownership issues once and for all. In May, China selected 10 provinces and cities to pilot the bond project and allowed them to float the issues in their own names and to assume responsibility for the repayment of the associated interest and principal.
"This represents a critical step toward the development of a fully functioning local government bond market in China,"Debra A Roane, senior credit officer with global ratings agency Moody's Investor's Service, said in a recent research note.
"Moreover, its implications are credit positive as it will increase the transparency of the fiscal and debt activities of the country's local governments and will lead to greater accountability on the part of local governments with respect to their investing and borrowing practices."