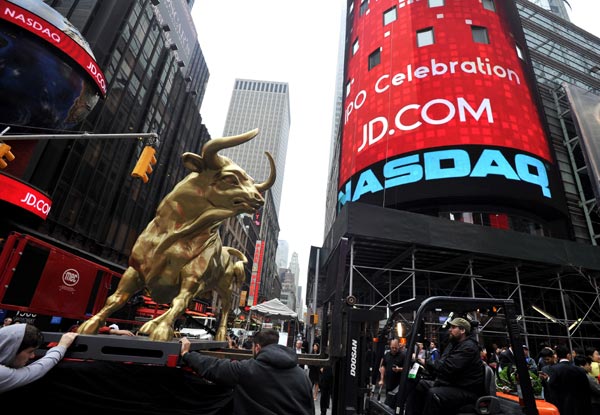 Electronic screens in New York City display information about JD.com's IPO last month. The retail site raised $1.78 billion in the May offer. Xinhua
Tech companies posting robust IPO returns as demand for services picks up
Chinese companies making their US stock market debuts in the past year have rewarded their buyers with the best returns among global peers, fueled by demand for Internet and e-commerce shares from Asia's largest economy.
The 10 biggest Chinese companies that completed initial public offerings in the US in the past 12 months have returned an average of 44 percent since their offer dates, compared with 25 percent for all US IPOs of more than $100 million in the same period, according to data compiled by Bloomberg. 58.com Inc, which provides online classifieds, has surged 140 percent since its October IPO and Autohome Inc, a car information website, has gained 110 percent since December.
The new Chinese technology companies are benefiting from investor bets that they can profit from the country's expanding consumer sector and grow quickly even with less State help. Companies such as Alibaba Group Holding Ltd, China's largest online marketplace which filed for a US listing last month, may get a boost as President Xi Jinping seeks to increase the role of services in the economy while reducing its reliance on the credit-driven construction that has propelled growth.
"There is a lot of investor excitement around the group, especially ahead of Alibaba," Kurt Ayling, a technology, media and telecom analyst at New York-based Susquehanna Financial Group LLP, said in a recent interview. "Investors generally feel they need some sort of exposure in China once again."
Of the 16 Chinese IPOs on US exchanges over the past year, 12 are by companies focused on Internet technology or Web-based services, including online shopping, according to data compiled by Bloomberg.
Retail site JD.com Inc attracted $1.78 billion in a May offer, and social media platform Weibo Corp completed a $285.6 million debut in April as Alibaba prepares what may be the biggest IPO ever.
The CSI Overseas China Internet Index, a gauge of Chinese dot-com companies, has rallied 6.6 percent this year, compared with a 4.2 percent drop in the Dow Jones Internet Composite Index.
Internet sales in the world's second-largest economy are surging as online sellers led by Alibaba are luring more of the nation's 618 million users. E-commerce sales jumped 52 percent in the first four months of 2014 from a year earlier, while broader retail sales gained 12 percent, which represented the weakest start to a year since 2004, according to the nation's statistics bureau.