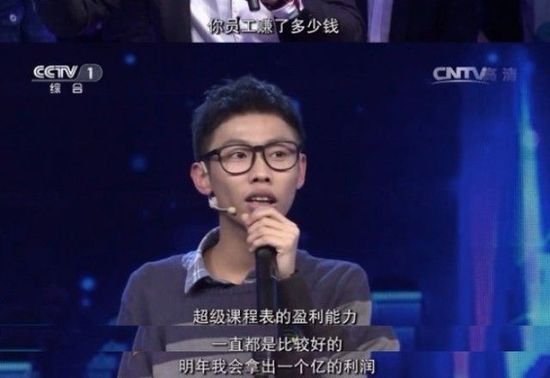 This screen grab from CCTV shows Yu Jiawen being interviewed at a program on Nov 22, 2014.
Young entrepreneur Yu Jiawen shot to national fame when he claimed on CCTV in November 2014 that he would give his employees 100 million yuan ($16.14 million) in the next year. The owner of hot new app company Guangzhou Super Weekends Sci-Tech Co Ltd, which owns Super Curriculum Schedule, a scheduling app that helps students socialize on campus, has since then continued to court controversy.
"I'm young, proud and typical. I speak for young entrepreneurs," said Yu. He is widely considered the face of China's new generation of entrepreneurs.
During the interview, he behaved like a child with an attention deficit: lighting a cigarette, getting a box of potato chips from a drawer to share with me and playing the guitar during breaks in the conversation. He said he was taught how to play by his girlfriend back in high school.
Yu developed Super Curriculum Schedule in 2011 when he was a junior at Guangzhou University. He comes from a modest background and started his own business from scratch.
Now, Super Curriculum Schedule has about 15 million users and is one of the top apps in the App Store. At 0.3 yuan per user, its total value amounts to 750,000 yuan. On top of this is Yu's personal fame and the brand's clout.
He allegedly attracted investment from Alibaba Group, the country's largest online commerce company, which led to the famous claim he would hand out 100 million yuan in salaries and benefits to his employees in 2015.
However, these grand claims face heavy skepticism from Internet industry insiders, and he has faced critics who question his diploma, investment and personality.
In the face of such criticism, Yu says, "Sometimes adults' perspectives are complex. They make simple things complicated."