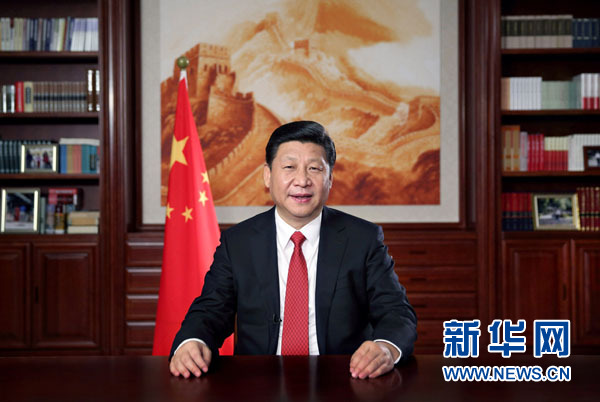 A file photo of President Xi Jinping. [Photo/Xinhua]
During his speech at the Forum on Literature and Art in Beijing on October 15, 2014, Chinese President Xi Jinping called for writers to deepen their understanding of the significance of literature and art today. The president's call had a huge impact. The past two years since his speech has seen the publication of a large amount of outstanding Chinese literary works.
It's no secret that Xi has a passion for reading. On many different occasions he has mentioned literature from different cultures and countries. Back in 2013, in an interview with media from BRIC countries he said, "I have loads of hobbies, my favorite one is reading."
Influenced by China's ancient philosophy that to bring peace to the land one must first cultivate themselves, before moving on to manage their families and then govern the state, Xi decided early on in his life that if he wanted to cultivate himself reading would be the best choice.
Although found himself working in mountainous and rural areas when he was 15 , Xi went out of his way to find as many books as possible. Xi once said that at the time there was a great atmosphere for reading among his fellows, so they would spend most of their spare time exchanging books with each other. Overseas classics such as The Red and The Black and War and Peace , and traditional Chinese works from the Ming (1368-1644) and Qing (1644-1911) dynasties made their way onto his reading list.
"It can be said that, literally, I read nearly all the literary classics I could find during that time," Xi said.
Russian willpower
Considering the huge impact Russian literature has had on an entire generation in China , it should come as no surprise that during an interview with Russian media he was able to wow the Russian people with his knowledge of Russian literature.
According to a People's Daily article examining Xi's reading habits published on Thursday , classics such as Eugene Oneginby Alexander Pushkin , A Hero of Our Time by Mikhail Lermontov , And Quiet Flows the Don by Mikhail Sholokhov and War and Peace and Resurrection by Leo Tolstoy , all resonated with Xi.
"Dostoevsky is the deepest Russian writer , while Tolstoy is the widest. Comparing the two of them , I prefer Tolstoy , " Xi said.
According to Xi, he once was inspired by Nikolai Chernyshevsky's work What Is to Be Done? , in which the leading character lives an ascetic life, even going so far as to sleep on a bed of nails to strengthen his will. Inspired, Xi and his fellows tried sleeping on their beds without mattresses, going outside on rainy and snowy days and taking cold showers to strengthen their willpower.