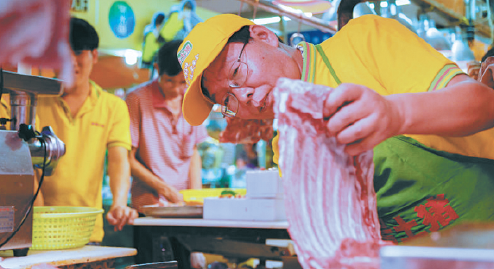 Lu Buxuan at a store of Guangdong No 1 Food Co in Guangzhou. [Photo/China Daily]
The booming Chinese pork market is said to be worth about 1 trillion yuan a year
Lu Buxuan, a graduate of Peking University, also known as Beida, one of the most prestigious universities in China, has hit the headlines again for selling pork.
Lu graduated from the university's Department of Chinese Language and Literature in 1989 and became a self-employed butcher in 1999 after having a few jobs in Xi'an, capital of Shaanxi province. He made the headlines in 2003 after his story was reported by a local television station.
He has since been labeled the "Beida butcher", which is unimaginable to many, as cutting and selling meat would not usually be associated with a graduate of such a renowned university.
In 2004, he started working for a local history compilation office in Xi'an, leaving family members to run his butcher shop.
However, he has recently picked up his butcher's knife again. But instead of working at his family-run shop, which made 2 million yuan ($300,000) in 10 years, Lu is working with Chen Sheng, a fellow Peking University graduate, who owns Guangdong No 1 Food Co.
"They have tried to persuade me to join the company since 2010, but I was hesitant. I didn't think the business (of selling expensive pork) would last long," Lu said.
But he later changed his mind.
"The Chinese pork market is huge. It is included in the calculation of CPI and is worth about 1 trillion yuan a year, which is more than the home appliance or computer markets," he said, adding that Chinese consumers are paying more attention to quality.
Lu said it would have been better if he resigned from his previous job earlier, adding that a light workload at the local history office left him with too much idle time.
In his new position, Lu will be engaged in technical work, training at the butcher school and overseeing quality control, while also serving as head of the online store.
He will also be involved in hiring employees and development of corporate culture. He said he will help embrace the challenge of recruiting well-educated people for the company.