Sichuan province, which was hit by a devastating earthquake on May 12, 2008, is home to China's first institute for disaster management - aiming to improve scientific understanding and the country's reconstruction capacity in the event of natural disasters.
The Wenchuan earthquake, as it is known, killed more than 69,000 people and injured hundreds of thousands more.
By the following month, work to develop the Institute for Disaster Management and Reconstruction had begun, with a focus on disaster prevention, mitigation and reconstruction as well as medical treatment, building design and disaster management science.
The institute is a joint program between Sichuan University and the Hong Kong Polytechnic University, and as of June, it had provided 134 graduates with professional skills and knowledge on disaster-related medical treatment.
It has also developed a new model of post-disaster reconstruction, which was put into action in Sichuan's Ya'an city after a second major earthquake hit the province on April 20, 2013.
Gu Linsheng, executive director of the institute, said this model was developed based on the experiences of rescuers involved in the Wenchuan earthquake as well as years of research into other natural disasters in China and worldwide.
Wenchuan county witnessed rapid reconstruction efforts in the wake of the 2008 earthquake, with temporary lodgings to house 12 million victims built in the first 100 days after the disaster.
"Based on the experiences of Sichuan, and considering future disaster prevention and reconstruction, we needed to develop a new model to alleviate the burden on the central government and lay a solid foundation for local government disaster management," Gu said in an interview with Xinhua News Agency.
The new model focuses on giving greater responsibility to local governments in disaster-hit regions, the institute said.
"This shift of responsibility from the central government to the local level can strengthen the region's capacity to cope with disasters, and gives sufficient time and space for the regions to decide their own priorities and schedules," Gu said.
It also opened up more channels for targeted donations, according to the institute, which estimates that around 400 million yuan ($60 million) from social organizations has been guided to support targeted projects in Ya'an city, like schools and community buildings, over the past three years.
Work to improve the model is ongoing and includes international exchanges with countries such as Japan, the institute added.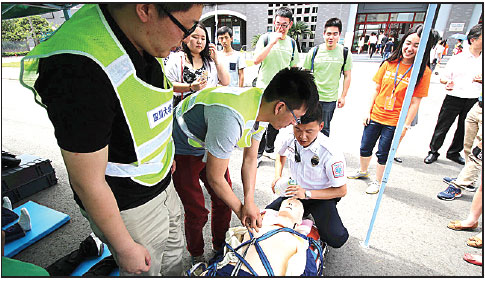 A student learns first aid skills during an international forum about post-disaster reconstruction at Sichuan University in May.Zhao Xinglei / For China Daily