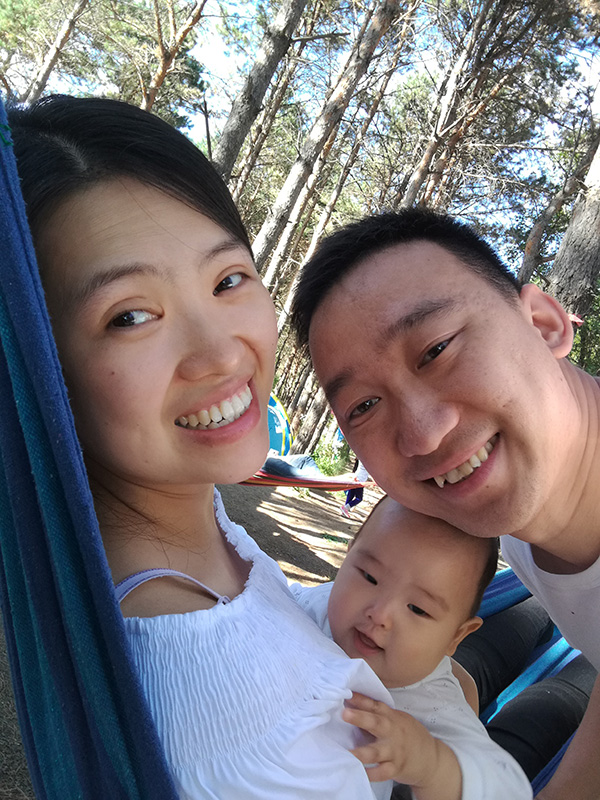 Wen enjoys his family time with his wife and son. [Photo provided to chinadaily.com.cn]
A pair of newlyweds from the northeastern part of the country bought a Beijing apartment in a presale deal four years ago when they were both in their 20s and now very much enjoy their stable life in the cozy home with their baby son.
"We bought it during the presale at 2.6 million yuan ($389,676), right after we got married, and paid 30 percent of the total price as the down payment," said Wen Jian, the husband, "Now we need to pay a monthly installment of about 10,000 yuan."
The 108-square-meter, three-bedroom apartment is on the ground floor and has a 112- square-meter two-bedroom basement. They transformed part of the basement into a playground for their six-month-old son.
"We bought a new apartment because most second-hand houses were near the center of the city and too expensive," said the now 32-year-old Wen, "With the same amount of money we could only get a 70-square-meter one, which would be too small for a family of three."
Wen's apartment is in Changyang township, Fangshan district, about 30 kilometers southwest of downtown Beijing.
"I never expected that owning an apartment would bring me so much mental comfort and security," said Wen, "I like the life of being a homeowner in such a large city like Beijing and it gives me a great sense of success."
Wen lived in rented apartments in Beijing for three years before buying this apartment and knows well about high rental costs and the time and energy spent negotiating with a rental agent or a landlord.
"Living in my own apartment allows me to concentrate my energy and time on work, life and study," Wen said, "Besides, I can also decorate the apartment as I like and it greatly improves the quality and convenience of my life."
About 18 months after moving into the apartment, Wen and his wife had their first child, a son.
"The catch of owning the apartment is the long commute between my suburban residence and urban workplace," Wen said, "Paying the monthly installment also puts us under some pressure and affects our life to some extent."
Working as an executive assistant in a privately owned, fast-moving consumer goods company, Wen now spends three hours daily commuting. Wen's wife is a civil servant.
The value of Wen's apartment almost doubled four years after his purchase due to the booming property market in Beijing.
"I don't care much about the rising price of my apartment although many others my feel rather proud of the appreciation of the value of their apartments," Wen said. "Owning only one apartment, I can never make money by selling it."