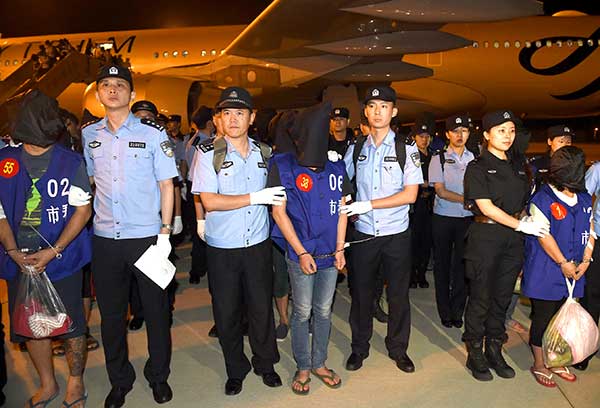 Police officers escort telefraud suspects at Nanjing Lukou International Airport in Jiangsu province last Tuesday. A total of 63 suspects were brought back from Cambodia and accused of defrauding people on the Chinese mainland by posing as law enforcement officials. Han Yuqing / Xinhua
Police have detained 90 computer hackers and arrested 3,300 suspects they say were involved in the trading of personal information since April, the Ministry of Public Security said on Monday.
Among those were 270 staff members who police say facilitated the leaks and traded personal information in the banking, education, telecom and express delivery sectors.
Meanwhile, police closed 900 websites and columns since April, after launching a campaign to target the online trading of personal information.
Also on Monday, the ministry issued A-level arrest warrants, the highest level, for 10 at-large suspects involved in telecom fraud cases. People who provide clues leading to the suspects' arrested will be awarded, the ministry said.
In recent years, telecom fraud has occurred frequently and has become a public plague, violating privacy.

"Infringement of personal information is a crime that feeds internet fraud. It has played an essential role in telecom fraud," the ministry said, adding that it has organized several actions to combat the trading of personal information and has effectively curbed such crimes. But criminals have adopted new techniques that have created practical challenges for law enforcement.
In addition to theft by hackers and disclosure by industry insiders, criminals have created software designed to steal passwords and personal information kept in computers.
In addition, criminals have set up strong defenses to counter police investigation, and they use web phones and fabricated usernames to operate online, and transfer accounts based on QQ groups, websites and hacker forums.
The ministry said it placed a high priority on stopping the theft of personal information and will seek punishment of suspects who abuse information for fraud, robbery or extortion.
During the recent action, police uncovered a series of major violations.
In May, the Mianyang police in Sichuan province captured nine suspects they said traded personal information. They seized many bank credit reports and 132 bank cards, as well as 61 hand-held internet terminals. The money involved was about 2.3 million yuan ($345,000).
In July, police in Jiangsu province broke another group, headed by a person surnamed Qiu. Officers said the group included hackers, industry insiders and agents using online channels including Taobao and JD.com. The suspects illegally traded 60 million pieces of personal information, authorities said.
The ministry said it will pay close attention to supervision and will urge key industries and internet platforms, including those for instant massaging and social networks, to strictly follow information security rules. It will also conduct thorough investigations to close loopholes to ensure information security for the public.
Public security departments should also advise members of the public "to raise their awareness so as to protect their individual information and avoid the leaks that can result in great losses", said Li Wei, a Beijing lawyer.