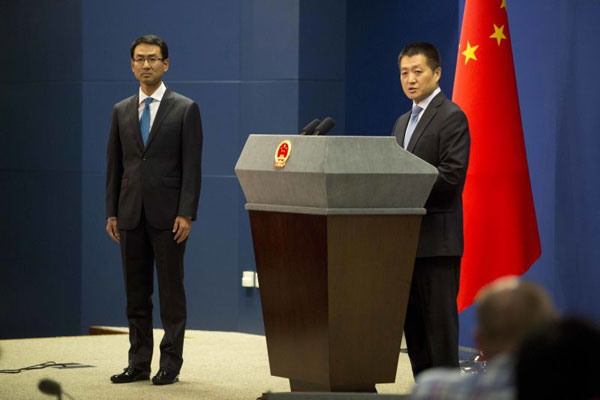 Lu Kang (right), director general of the Foreign Ministry's information department, introduces the ministry's new spokesman Geng Shuang to reporters in Beijing Sept 26, 2016.[Photo by Feng Yongbin/chinadaily.com.cn]
The former spokesman for the Chinese embassy in the United States started another chapter in his career in Beijing on Monday with a new title - Foreign Ministry spokesman.
Geng Shuang is the ministry's 30th spokesperson, following Lu Kang, who was appointed in June last year.
Prior to his ministry press conference debut, Lu Kang, director general of the ministry's information department introduced Geng, also deputy head of the department, to reporters from home and overseas.
Geng has served diplomatic missions for more than 20 years, Lu said, and has worked for the ministry's international department, the department of international economy as well as the Chinese diplomatic mission to the United Nations.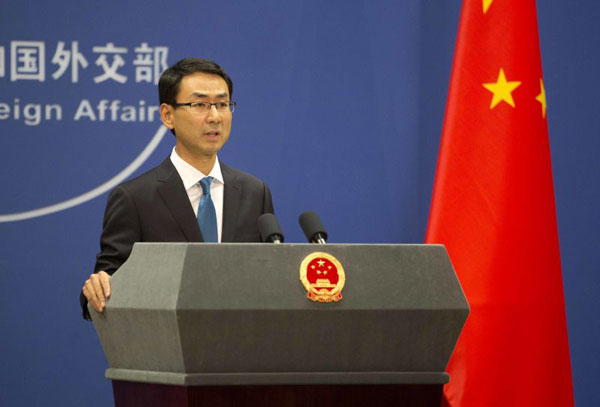 Geng makes his first appearance as a Foreign Ministry spokesman in Beijing Sept 26, 2016.[Photo by Feng Yongbin/chinadaily.com.cn]
Geng has rich experience in both multilateral and bilateral areas and is a specialist in media communications, Lu said.
Geng, in a brief speech, said he is looking forward to working with reporters to enhance understanding, both in China and globally, of the country's diplomatic policy and positions in a more timely, accurate, comprehensive and objective manner.
Geng said he hoped to "boost mutual understanding and trust between China and other parts of the world".