Restorations of ancient relics should be done like works of art, administration official says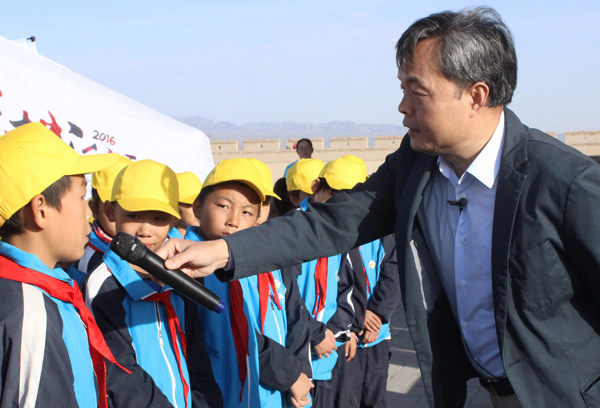 Song Xinchao, deputy director of the State Administration of Cultural Heritage, gives a lesson to local primary school students on Great Wall protection in Jiayuguan, Gansu province, on Friday. Wang Kaihao / China Daily
The State Administration of Cultural Heritage has sent investigators to a section of the Great Wall that some netizens claim was poorly renovated.
"No one responsible for the project will be pardoned if management error or problematic construction quality is found," the administration said on Thursday.
Pictures of a two-kilometer section of the wall in Suizhong county, Liaoning province, showed that a flat protective layer, like a newly paved road, had been added on top of the wall.
Restoration of the 700-year-old section wound up in 2014, but did not come to public attention until the pictures were posted online.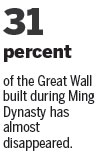 Materials used for the restoration were not as hard as netizens suspected, the administration said, and it would be easier to restore the original appearance of the wall if deemed necessary once the investigation is complete.
"The point is that we cannot treat the restoration of cultural relics like a general construction project," Song Xinchao, deputy director of the administration, told China Daily on Friday.
"Restoration should be treated like a piece of art."
Song was in Jiayuguan, Gansu province, where the west end of the 8,000-km wall from the Ming Dynasty (1368-1644) is located. He spoke to 50 elementary students at the foot of the wall to promote their awareness of protecting the UNESCO World Heritage Site.
"Education is the key to protecting the wall, not money," Song said.
"We have to make today's people believe that the Great Wall is part of their daily lives, but the wall cannot be disturbed too much."
The balance is a challenge, he admitted.
According to the State Administration of Cultural Heritage, more than 20,000 kilometers of the wall, built over many dynasties, are spread over 15 provincial regions.
"Construction materials of the wall in different periods and regions have wide varieties, which means our restoration methods should be diverse," Song said.
An investigation by the Great Wall Society of China showed that only eight percent of the Ming Dynasty wall is still well-preserved, while 31 percent has almost disappeared.
"It's unrealistic to demand the wall be intact," Song said. "If some sections have diminished over time, reconstruction is not necessary."
"An important rule in restoring the wall is to intervene as little as possible."
He added that daily maintenance is more important than massive restoration.
"Not every section of the wall has to be like Beijing's Badaling section after restoration," he said.
Standards on restoration and management of the wall began in August.
"The certification system for wall restoration will be more complete as well," Song said.
He also said that administrations managing tourist sites along the wall need to take more responsibility for the protection of cultural relics.
wangkaihao@chinadaily.com.cn