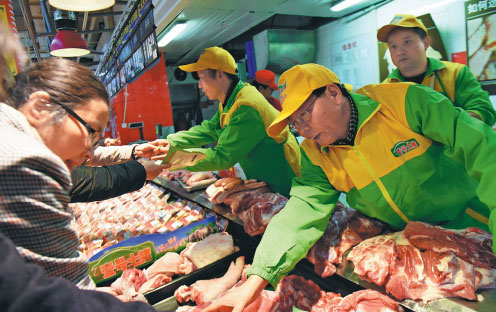 Lu Buxuan (right), founder of a pork retail chain, promotes products at a supermarket in Hangzhou, Zhejiang province.[Long Wei/for China Daily]
Lu Buxuan, a Chinese language major from Peking University, gained some notoriety in 2003 after it was reported that the top-level gradudate chose to sell pork despite his educational pedigree. After the initial controvery, Lu spent over a decade working as a public servant. Recently, he resigned from his government job and returned to the pork business, 12 years after he first stepped away.
In the 1990s, Lu was nicknamed "Peking University butcher" after his story was widely circulated. Pressured by government officials, Lu began to work in a local archives bureau in 2004, though he never truly enjoyed the job. In fact, Lu said the trivial work he did in the archives neither improved his mind nor offered him a sense of fulfillment. Those deficiencies, coupled with the relatively low salary, persuaded Lu to quit - once and for all.
Lu finally resigned in August. Now, he is proud of the nickname "Peking University butcher." With almost 20 years of experience, Lu is also confident about his ability to succeed in the pork industry. Besides trade, he also studied breeding, slaughter and disease prevention when he first entered the industry two decades ago.
Lu said he is taking the pork business quite seriously, and that his dream is to one day be recognized by society as a successful, regardless of his choice of profession.