When approached in May by a Chinese woman looking for the policeman who took her to an orphanage in Beijing 22 years ago, Hou Xiangwei immediately realized he was the man.
The woman's disfigured right hand took Hou's mind back to a chilly spring afternoon when police were called about an abandoned girl at the Temple of Heaven park.
"When I arrived, there was a large crowd of people around. The girl was small. She could walk but couldn't speak," the 52-year-old recalled. "She was standing there with her right hand covered by gauze and stopped crying."
The girl's hand had been severely burned.
Hou sent the girl to a hospital for treatment, but amputation of her fingers was required. Over the next three days, Hou, the father of a four-year-old boy, took the girl to several hospitals hoping to find any medical record that could help identify her parents. He failed.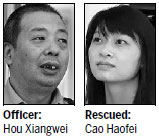 Hou and his colleagues had no choice but to send the girl to an orphanage, where she was given the name Cao Haofei. She was adopted by a family from the United States a few years later.
More than 22 years passed, and all of Hou's colleagues who once played a role in caring for the girl have retired. Hou is still working for the station with jurisdiction over the Temple of Heaven park after 32 years.
"I never expected the girl would come back to me," said Hou. "She carried a copy of a document with my name on it from the orphanage that accepted her."
Cao joined a news conference on Monday as part of her question to find her biological parents.
She was quoted by Beijing News as saying to Hou: "I want to thank you. In my mind, you are the man who picked me up. You are my police father."
Cao's foster mother works in special education and her foster father is a musician. Neither ever made her ashamed of her adoption, she said.
Her foster father once said that if her biological parents knew how outstanding she is, they would be happy.
Cao developed a love of China after a cultural trip to the country when she was 15. Since then, she has visited every year during summer holidays. When she graduated from college two years ago, she decided to move to Beijing to learn Chinese.
She also expressed her wish to find her biological parents. "I would like to show my gratitude and ask about my birthday and my life story. I want to meet them," she said.
Though it may be difficult to find her biological parents, Cao now has some hope. Hou has received phone calls from around 100 people who wanted to see if Cao was their daughter.
"I want to help her find her parents," Hou said. "If they can be found, it will be perfect."