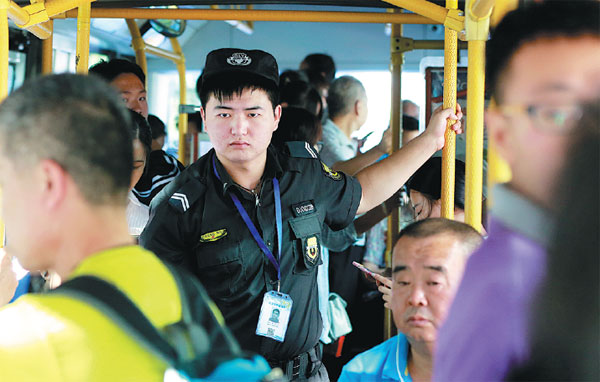 Security guard Hou Yongfei stays alert on duty on a bus in Beijing on Monday. The national public security and transport authorities have issued a notice saying cities and provinces need to add security guards. Feng Yongbin / China Daily
Concern over deadly arson attacks is prompting wider use of security guards on buses, a practice expected to become more common nationally, bus company officials say.
Since August, some 260 security guards have been assigned to buses on Shanghai's main roads and commercial or tourist districts such as Xujiahui and People's Square.
More bus routes will employ the guards in response to a notice from the Ministry of Public Security and Ministry of Transport saying municipalities and provinces need to boost security on buses, according to a senior manager, who declined to be named, from Shanghai Bashi Public Transportation, the city's bus operator.
In Beijing, the first group of key routes were assigned guards in December 2013.
The effort has grown since an anti-terrorism law was passed at the end of 2015. By the end of 2016, the city plans to have guards on every bus within the Third Ring Road, according to Zhang Fushun, a spokesman with Beijing Public Transportation Group, Beijing's bus operator.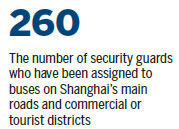 The guards, who wear black uniforms and have portable fire extinguishers on their belts, keep an eye on packages and luggage that passengers carry aboard.
"We mainly look for liquids," said Chen Yang, a guard on Beijing's Route 103 bus. "We keep an eye on those carrying alcohol - this has happened to me a few times already - and we'll immediately call police if we spot gasoline," Chen said. Other duties include helping keep aisles clear in case of emergency evacuation, and preventing passengers from spreading fliers.
Most guards and passengers interviewed said the policy had been welcomed and that it reduces the burden on bus drivers, keeping their concentration on the road.
But the practice has encountered a few bumps.
"The bus is overcrowded, especially during peak hours and at major stops," Chen said. "This bus travels past the Forbidden City, and I myself can barely move while going past those stops, let alone keep an eye out toward the back of the bus."
Also, because the guards have no authority to go through baggage, their powers are limited when they face uncooperative passengers. "We can do nothing but keep an extra eye out for them," Chen said.
Some said it seems too much like a formality. "I feel like this method does little in terms of actual effect, plus I've seen many guards playing with their smartphones while on duty," said Zhong Qing, a passenger on Route 596 in Beijing.
Compulsory security checks have been used for some time on the subways in cities like Beijing and Shanghai. Bus security guards in most cities, however, have only been used since 2015, after a few bus arsons and a notice from the Ministry of Public Security and the Ministry of Transport recommending operators add security guards.
Bus arsons killed 47 in East China's Xiamen in June 2013, two in Guangzhou in July 2014, and 18 in Northwest China's Yinchuan in January 2016. In all these cases, the arsonists set fires to "get revenge on society", according to police reports.
On Sept 15, a woman in Shenzhen killed herself by setting ablaze a bus she was riding in using gasoline hidden in her luggage. The driver and all other passengers escaped.
Liang Shuang contributed to this story.