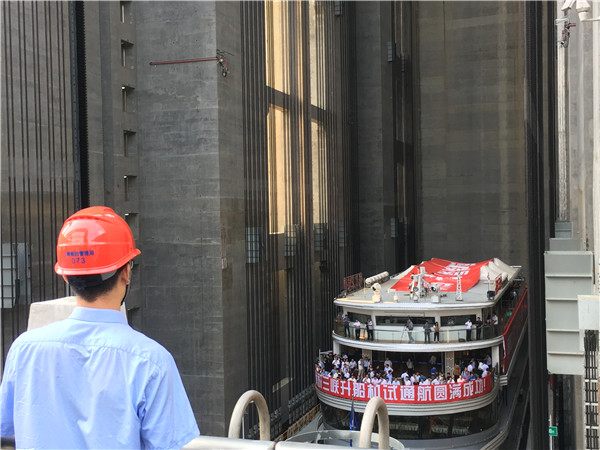 The trial operation of the permanent shiplift at the Three Gorges Dam in Central China's Hubei Province began on Sept 18, 2016. [Photo/Xinhua]
PERIOD PROJECT
The Three Gorges project is a multi-functional water control system, consisting of a 2,309-meter long and 185-meter high dam, a five-tier ship lock, 32 hydropower turbo-generators and a shiplift.
The shiplift was in the original plan that was passed by the National People's Congress, China's top legislature, in 1992. But due to technical and safety concerns, the shiplift project was put on hold in 1994.
By the end of 2009, all the construction work at the dam had been done except for the shiplift, which has been lauded for "bringing the last mystery of the Three Gorges project into the light."
The original plan was to build a wire rope hoist shiplift. Experts, however, were concerned about its colossal scale, and the tank used to carry ships would be unstable, said Lu Youmei, former general manager of China Three Gorges Corp.
In 2003, gear-rack driven mechanisms and nut-screw safety measures from Germany were introduced to replace the original plan. These new systems were approved by the Three Gorges Construction Committee under the State Council, China's cabinet. Construction resumed in 2008.
This new approach was adopted as it would help keep the shiplift balanced, and it is far more superior to the wire rope hoist method, said Lu, who is also an academic with the Chinese Academy of Engineering.
Over the past eight years, many advances have been made, new standards had been released for steel smelting, civil engineering and management, thanks to the construction of the shiftlift, said Wu Xiaoyun, deputy director of the mechanical and electrical engineering department under the Three Gorges Corp., who headed the shiplift project.