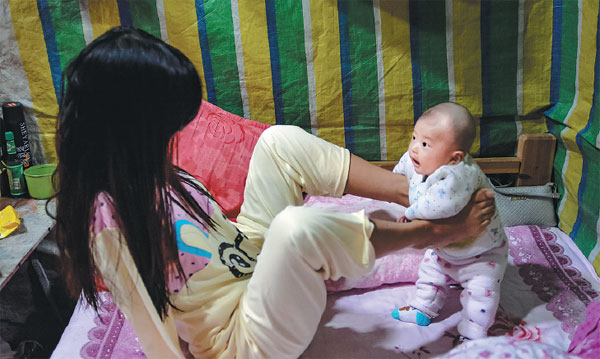 Xiang Liping plays with her child at her home in Shantou, Guangdong province. Photos By Chen Yongheng / For China Daily
After chance meeting 14 years ago, pair's lives have become intertwined
More than a decade after they first met on Mount Bamianshan in western Hunan province, a photographer from Shenzhen, Guangdong province, has kept his promise of finding funding for a young woman whose arms were amputated as a child.
Chen Yongheng, 63, has taken about 5,000 photos of Xiang Liping, who he first encountered when she was age 13 in December 2002.
She appeared on the crest of a hillside as he was coming down the mountain, followed by two other skinny looking children, carrying large bundles of straw on their backs.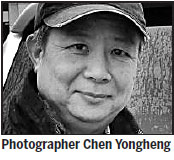 Intrigued by the sight, Chen raised his camera to take a picture of the three - but it was then that he noticed the sleeves of the girl in red blowing in the breeze.
He approached and touched one of the girl's sleeves, only to discover there were no arms inside. After returning home and reviewing his photo-graphs, Chen decided he had to find the girl again.
Within months he was heading back to Hunan, which at that time involved a 12-hour train journey to the provincial capital, Changsha, followed by a four-hour bus ride to Jishou city, where he stayed overnight before taking a service bus to the town of Liye and hiring a tractor to take him 20 km up the mountain.
Chen finally found the girl, whose name he then discovered was Xiang Liping. He learned that she had touched an exposed electrical wire age 4 and had to have both her arms amputated due to the severe injuries she suffered.
Paying for her treatment had left Xiang's family in debt, forcing both her parents to leave to work in Guangdong - they have only returned home once or twice since. "She never talk-ed about her parents, because she knew almost nothing about them," Chen said.
It was then that an idea occurred to him - submit his pictures of Xiang to the World Press Photo Contest, which offers a 10,000 euro ($11,080) top prize, courtesy of organizers the World Press Photo Foundation headquartered in the Netherlands.
From 2003 to 2008, Chen visited the family and took photos of Xiang up to three times a year. He entered the contest twice, but both times he failed to win the top prize.
Xiang and her family gradually became indifferent to Chen, doubting his motivation.
Chen didn't visit Xiang at all from 2009 to 2011.
Though Chen visited Xiang twice more in 2012 and tried one again to win the World Press Photo Contest in 2013, his efforts came to naught.
That was until December last year, when his pictures caught the attention of journalists at a photo exhibition.
Tencent, one of China's largest internet companies, offered to publish the photos.
To include the latest pictures of Xiang, Chen visited her in Guangdong, where she is now married with a child.
After the photos were published online in June, they were viewed more than 100 million times and attracted more than 80,000 comments. With the support of the China Social Assistance Foundation, more than 300,000 yuan ($45,000) was donated to Xiang.
It was hoped that the money could be used to make Xiang a pair of artificial arms, but doc-tors have determined that this is impracticable given her body condition.
However, she can now receive 50,000 yuan a year from the foundation. "She now has more confidence and told me over phone that she wants to open an online store," Chen said.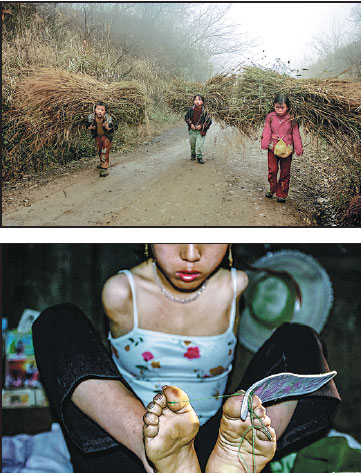 Top: Xiang Liping (right) and her two younger brothers carry bundles of straw home in November, 2002. Above: Without arms,Xiang uses her feet to do needlework.