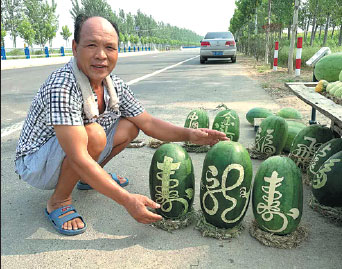 Gu Xinliang shows watermelons he carved with his thumbnails on a country road near his home in Jiaxian county, Henan province. Li Kongxun / For China Daily
In the summer, watermelon peddlers can be spotted along many of North China's country roads, but few sell their fruit in the same way as a teacher in Pingdingshan city's Jiaxian county, Henan province.
Gu Xinliang carves Chinese characters into the rind of his home grown watermelons before selling them to passers-by. His novel idea has helped the 56-year-old teacher from Heimiao village sell 3,000 kg of water-melons in 13 days.
"I want people to be happy while enjoying my watermelons in the summer," said Gu, as three buyers watched him carve the character for "fu" ("happiness") into a water-melon using only his thumb-nails.
Gu, a Chinese-language teacher at a primary school in the county, gets up at 6 am every summer morning to harvest watermelons, load them onto a truck and sell them by the side of the road near his home.
He hit upon the idea of carving his watermelons on July 20, when trade was poor and he needed kill some time. He never expected his creations to attract so many customers - the melons on his truck were almost sold out when he went home at 9 pm that day.
"The rind of a big water-melon looks like a black-board in a classroom to me, on which I can express my thoughts," he said.
Gu prefers to carve traditional Chinese "blessing words" into his watermelons.
The most common characters he uses are the ones for "fu" ("happiness"), "shou" ("longevity") and "long" ("dragon") and he always carves using his thumbnails.
At first, he would spend nearly 20 minutes carving a character, but several days later it took him less than 10 minutes and he could carve about a dozen watermelons in one day.
In addition to the 3,000 kg of watermelons he sold, Gu also sold out of another 1,000 kg of muskmelons, which fetch two or three times the price.
A man, surnamed Wang, said he stopped to see the carved watermelons, and liked them so much that he decided to buy one to take it home. "Many buyers have asked me to carve blessing characters they choose themselves," Gu said.
"They have also suggested that I use tools like knives because my nails were get-ting hurt by the frequent carving, but knives are too sharp for watermelons - I like to carve using the strength of my own nails."
Gu doesn't charge any more for his carved water-melons than he would for an ordinary one.
"It is just a joy to see people's smiles when they take the watermelons away," he said, adding that many people tip him for his artwork.
Calligraphy has been a passion for Gu for many years. In the past, he would offer to write couplets for villagers during the Spring Festival, he said. "I have three grandchildren," he said. "By next summer, I will have a fourth and I feel happy. I want to share this happiness with the people who pass by."