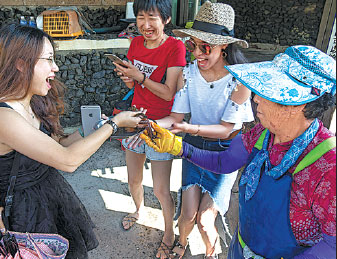 Chinese tourists examine a live octopus on Jeju Island, South Korea, on Aug 26. Wang Gang / For China Daily
Rising number of outbound visitors from the mainland will promote growth among members
China, the world's largest tourism market for both domestic and outbound travelers, will be responsible for more than 500 million out-bound visits in the coming years. That will help to fuel the economic development of G20 members.
As an example, Li Jinzao, director of the China National Tourism Administration, said in 2015 that in the next five years, more than 150 million Chinese tourists will visit countries along the route of the proposed Belt and Road Initiative, spending about $200 billion.
According to a communique released after the G20 Tourism Ministers Meeting in Beijing in May, tourism is one of the fastest-growing, most resilient economic activities, in addition to being a cross-cutting sector that has significant multiplier effects on other businesses. The World Bank has said that for every dollar spent on tourism, a further $3.20 is generated in GDP across the global economy.
Last year, expenditure on outbound tourism by residents of G20 members exceeded $980 billion, accounting for 80 percent of total tourism expenditure globally. Inbound tourism to G20 members accounted for 70 percent of the global total. Vice-Premier Wang Yang said that more than 120 mil-lion mainland tourists traveled overseas in 2015, spending $200 billion, which contributed to the recovery of the global economy.
South Korea is a good example because the country's tourism industry is reliant on visitors from the Chinese mainland. Last year, more than 14 million international tourists visited South Korea, with more than 6 million from China. Their aver-age individual expenditure was $2,200, and they contributed 1.6 percent of South Korea's GDP.
China has become the No 1 source of tourists to the US, injecting nearly $74 million a day into the US economy.
"To contribute more to tourism exchanges among G20 economies, we will encourage second-and third-tier cities to launch international tourism cooperation ventures and forge more sister-city ties. We will encourage Chinese companies to invest more overseas, and we will also welcome foreign companies to invest in the Chinese tourism industry and develop a larger number of classic travel routes along the Silk Road," Li said.
Click here to see the larger graphic.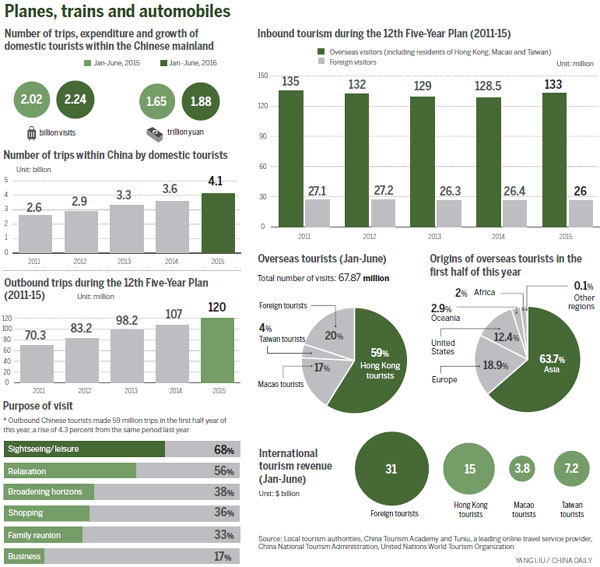 Click here to see the larger graphic.