China will establish a rehabilitation university before 2020 to help disabled people, the China Disabled Persons' Federation said on Wednesday.
An estimated 85 million disabled people live in China, and about 26 million of those are registered.
"We aim to provide high quality rehab services," the federation's chairwoman, Zhang Haidi, said at a State Council news conference. "The current main problem is the lack of trained professionals.
Zhang said that under the current system, fewer than 8,000 rehab students graduate every year, and 70 percent of those are from two-year colleges, far from meeting the demand for such services.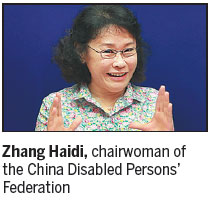 In 2015, only 30 percent of registered disabled people received any kind of rehabilitation services.
According to the federation, China had 7,111 rehab centers as of 2015, with 232,000 employees.
"Rehab training is the core of public services for the disabled," Zhang said. "Rehab is about rebuilding. And it's the most urgent need - to have a better life."
Establishment of more rehab programs was written into the country's 13th Five-Year Plan (2016-20).