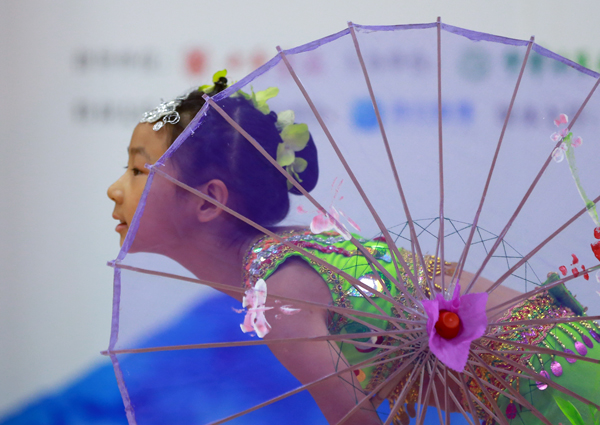 A girl performs a traditional umbrella dance at a competition for young arts students this summer in Beijing. [Photo/China Daily]
For many Chinese students, a holiday amounts to another school semester. Driven by their parents, their summer vacations are not a time of fun and relaxation, but an opportunity for extra study to surpass their peers.
Extracurricular classes, including English, mathematics, music and calligraphy, are gaining popularity not only at the middle school level, but also among younger school children.
According to a survey released by the Guangdong educational authority, more than 80 percent of students and their parents said they want the extra classes, despite it not being a school requirement.
YES
"My dream is to study at Harvard University, and both my parents and I agree that no time should be wasted. Summer break is a great opportunity for me to do extra studying that I have planned for myself. Only the top students can get into the top universities. No one can achieve something without paying a price and making the effort. However, studying hard doesn't mean you have to sacrifice your personal life."
Gan Dong, a 15-year-old student in Chongqing
"My daughter participates in a wide range of extracurricular activities, including piano, chess, calligraphy, Chinese painting and dance, during the summer vacation. I think parents should support children and keep them engaged in any extracurricular activities that they are interested in. It's a great way to help children get to know themselves, find their own talent, build up their self-confidence and enjoy life. Children should be given the autonomy to choose what they want to do, rather than letting their parents decide."
Ji Qing, a 45-year-old full-time mother in Beijing who has an 8-year-old daughter
NO
"Summer vacation should be the perfect time for parents to spend quality time with their children. Instead of sending children to more classes, parents should discuss with children what they could do together, such as reading, entertainment or other activities children want to do. Plans for summer vacation should be made by children. Parents should give guidance."
Yuan Zhaoxia, psychiatrist at a family education center in Foshan, Guangdong province
"Studying is not only about improving scores. Many parents are too keen on academic performance. Primary education should focus on the cultivation of students' personalities and helping them to have a habit of learning. It is better to encourage students to explore the world by themselves instead of forcing them to take extra lessons. Education is more than that."
Qiu Weiwen, a middle school teacher in Zhuzhou, Hunan province