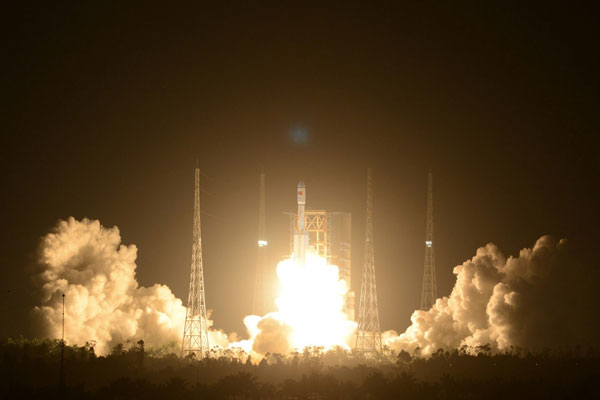 The Long March-7 rocket blasts off at around 8:00 pm Beijing time from a new space launch center in Wenchang, South China's Hainan province, on July 25, 2016.[Photo/asianewsphoto]
China conducted the first flight of the new-generation Long March rocket on Saturday night, marking the first use of the Wenchang Satellite Launch Center in the island province of Hainan.
The rocket took off from its launch pad at the Wenchang center at 8pm and put a Yuanzheng 1A restartable upper stage into space. The Yuanzheng 1A released six payloads into their preset orbits.
The Yuanzheng 1A is a spacecraft dubbed a "shuttle bus in space" by some experts. It is capable of sending multiple satellites or other payloads into different orbits during a single mission. It ferries satellites using its own power system after reaching an initial orbit atop a rocket.
The first mission of Long March 7 achieved the planned goal and opened a new chapter in China's space lab project. Its success laid a solid foundation for the project's upcoming missions. The launch was aimed at testing the design and capabilities of Long March 7, as well as the capacity of the Wenchang center. It was also tasked with verifying the coordination and compatibility of different systems. In addition, Long March 7 will carry out technology demonstration tests with its payloads, such as the scale model of the multi-purpose re-entry capsule.
Today's launch is the 230th flight among the Long March rocket family.
The Long March 7 is a liquid-fuelled carrier rocket developed by the China Academy of Launch Vehicle Technology, the leading rocket developer in China. Its propellants are liquid oxygen and kerosene and they are pollution-free, according to the academy.
The Long March 7 is 53.1 meters tall. The diameter of its core module is 3.35 m.
With six 120-ton-thrust engines, the rocket can send 13.5 tons of payloads to the lower Earth orbit and 5.5 tons to the Sun-synchronous orbit. Having a take-off weight of 597 metric tons, it is currently the most powerful rocket in China's launch vehicle family as its payload capability is about 1.5 times bigger than that of the Long March 2F, the most powerful Chinese rocket before the Long March 7, designers said.